Our team chose to host a fun day of games, food, and friendship to support the Greater Illinois Chapter of the National MS Society at Dave & Busters in Addison, IL.  Admission to the event was $30 for adults and $20 for children.  The package included unlimited soda, assorted appetizers, unlimited video games, and $5 towards ticketed games.  Prior to the event, our team collected over 40 various silent auction and raffle items including a signed Isaiah Thomas basketball, Blackhawks tickets, various gift cards, car wash coupon books, spa services, snowboards, and other household goods.  Our initial goal was to raise $750 at the door and $500 from auction and raffle items; we exceeded our goal and raised over $6,000, with online donations continuing to roll in.
To solicit donations, several group members used personal and professional connections to get silent auction and raffle items. We also went door-to-door to businesses and sent emails to others that were found online to request donations; the door-to-door method was fairly successful, though email requests were mostly denied.  By gathering approximately 50 silent auction items, our team far surpassed our original projection.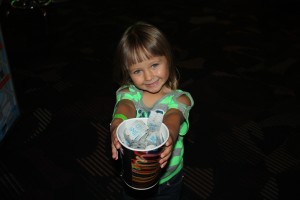 Though our actual attendance of 85 only surpassed our projection of 75 guests by about 13%, we were surprised by the generosity seen through $1,467 in online donations, $2,210 in silent auction sales, ticket sales, and additional donations given at the event. We beat our total estimated receipts by approximately 400%, and made our personal network and staff from the National MS Society take notice. Through Evite, alerts sent from the DIY fundraiser website, and personal emails, we were able to reach out to over 500 people, spread awareness about Multiple Sclerosis, our goals for the project, and solicit donations and interest for the event. We also created flyers that were posted and distributed in many arenas, but unfortunately this effort did not seem to create additional attendance. The majority of our attendees were friends and family (especially Jeff's)!
After completing this fund raiser, out advice to future teams is to begin early in selecting an idea and choosing a charity.  Seeing as many companies require 4-6 week time frame before assigning donations, time is of the essence.  Initially delegating subject matter experts for key roles in our project helped keep our team organized and on task throughout the planning process and on the day of the event.  A key lesson we learned is that you can never be too organized:  analyzing risks, creating a detailed outline of the day's events, and staging practice-runs is extremely important to success.
Flexibility is also of prime importance:  if people seemed bored or the event slowed down, we were prepared to move speeches into slow spots or evident gaps.  We actually took advantage of this strategy at one point when we temporarily ran out of food; we moved speeches and a video into a fifteen-minute time slow while Dave and Busters prepared more food.  Due to this prior planning, the audience was unaware of the misstep.
Lastly, we also paid attention to another unique situation for our team.  Unlike many of the groups, we had to pay for a portion of the attendance in advance, and food and beverage fees were not directly linked to attendance figures.  For this reason, it was very important to continuously reassess turnout and touch base with staff from Dave and Busters to amend the anticipated attendance figures, so we would not lose any additional profit by overpaying or over ordering food or game cards.
Overall, our team was lucky because every member was willing to work cohesively toward a common goal.  In the short time frame that we were offered, our team was able to come up with impressive results.  The most fulfilling part of this project is that all proceeds went to a charity that our team passionately supports.  What a great culmination to our MBA degree.