I've been health conscious for some time now, but it wasn't until about five month ago after I watched an eye-opening documentary (which I strongly recommend), called Forks Over Knives, that I decided to take the leap into the unknown. That's right, I became a vegan. Just like that. Cold turkey. No pun intended.
I had already cut out all dairy products from my diet after finding out I was lactose intolerant and my consumption of meat wasn't on a daily basis, so it couldn't be that hard, right?. Walking into the grocery store the day I proclaimed myself better than all carnivores was pretty overwhelming. I soon realized how processed all of our "healthy" options really are. Needless to say, I stayed in the produce section.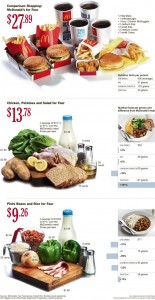 I was never one to eat fast food on a regular basis, but it was nice to have it as my very last resort. Now that that's no longer the case, I've realized just how inexpensive it really is to cook healthy meals versus purchasing what one may think is cheap. The picture to the left shows that a meal for four at McDonald's comes out to be $27.89. With this deal of a purchase, you also get 900 calories per person, 37 grams of fat, 123 grams of carbohydrates, and 23 grams of protein.
Pinto beans and rice, a meal that I now consume on a regular basis (minus that delicious looking piece of bacon), costs $9.26 (serving four individuals)…$18.63 cheaper than the McDonald's meal and costs roughly $4.66 per person. This delicious meal has only 571 calories (37% less than McDonald's), 15 gram of fat (59% less than McDonald's), 83 grams of carbohydrates (33% less than McDonald's), and 26 grams of protein (13% more than McDonald's). And you thought vegans were protein deficient.
Have I convinced you to at least make smarter choices yet?
After I became a vegan, I've noticed that this "health food craze" is really beginning to take over. Although I probably wouldn't step foot in McDonald's unless I had to use the restroom or grab a bottle of water, they now do offer healthier options than what they are known for. If looking at the life cycle of the health food craze, I would place it in the growth stage. Making healthier food choices is like making a New Years resolution about hitting the gym: there's already a negative correlation before you ever step foot in the gym…or put that first piece of delicious, green, leafy lettuce in your mouth and proclaim that you are full. But I believe that if individuals were more educated on the facts, rather than preconceived notions, they would make better food choices.
What stage in the life cycle would you categorize the health food craze? Do you think that it'll ever reach maturity or is this just another fad that'll eventually fizzle out?