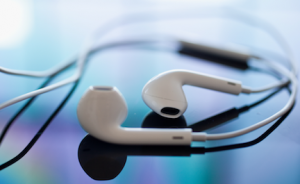 "Can you hear me now?"
One word to describe Apple? Mine would be: Evolution. When taking any of their products into consideration, ask yourself this: When was the last time this product was updated? Probably not too long ago..
The trick with Apple is, that nothing is "too small" to change. Any change, no matter how seemingly incremental is done with purpose at Apple. This ranges from the bigger products such as laptops and tablets to the smaller, such as with their earphones. Considering there isn't exactly a shortage of Operations-related Apple news on our blog site, what's one more? Apple's operations are so constantly in flux and evolving, there's a lot to explore with their operations/products.
Shortly following the release of the iPhone 5, people were suddenly seeing a television commercial for the newly redesigned slick Apple earphones, now dubbed Earpods. The commercial effectively highlighted all the issues consumers had with the previous headphones incarnation, and explained how the new Earpods were designed for comfort, quality and sound transmission. While some might think this minor change to such a small product isn't a big deal, the fact is that it actually is a big deal, especially from an operations standpoint.
Think back to product strategy options in chapter five's Design of Goods and Services. When we think about Apple's products and their constant changes and updates, this evolution technique of theirs is a clear example of the differentiation product strategy. Consider their aluminum laptops, iPad introduction, the iPod, the touchscreen smartphone and the App store. All of which revolutionized the electronic product industry, often imitated by competitors but never replicated. Apple effectively dominated their market because they introduced most of these product concepts, they wanted their products to have an edge that their competition lacked.
After the Earpods came to my attention, I read two articles on Wired and Engadget reviewing the Earpods and praising them for eliminating the problems that the older earphones had. Apple stated, "A breakthrough design for a more natural fit and increased durability, and an incredible acoustic quality typically reserved for higher-end earphones." And they delivered. The sound is clearer, less rubber and metal, they feed sound comfortably on the edge of the ear canal, airflow and bass are sharper and they're sleeker and conform to most ear shapes/sizes.
Operationally, when creating the Earpods Apple utilized Quality Function Deployment, wherein they identified customer wants and satisfied them. The Earpods differentiate in two ways, the first being that they're physically/structurally very unique in appearance, sleek yet functional. The second is that they  retail for $29, the same as the old models. Not to mention, free with the iPhone 5 or new iPod. You get the quality of earphones that usually sell for $100+ but at the previous price. Apple listened to their customers and it paid off in satisfaction.
Where do you think? Do you think the Earphones are a testament to Apple's evolution or is it an unnecessary change? Should Apple's differentiation have a different target?