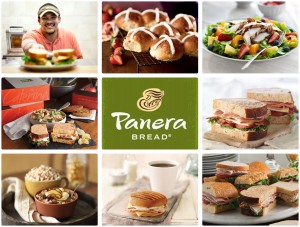 The food industry definitely has its struggles as a workplace.  However, can't that be said about any job position?  I have realized that it all depends on the quality of management.  As a new employee of Panera Bread, I am proud to praise the company and the leadership it offers.  Their strategic decisions and success in hiring passionate, yet qualified operation managers, makes it easy to relate everything learned in class.
In chapter one, we were given a list of 10 strategic decisions of operations management to ponder:
1.  Design of goods and services
2.  Managing quality
3.  Process and capacity design
4.  Location strategy
5.  Layout strategy
6.  Human resources and job design
7.  Supply-chain management
8.  Inventory management
9.  Scheduling
10.  Maintenance
When I think Panera Bread, I think strategy success.  The restaurant layout, quality food, and design of service are only three of the tactful ways Panera remains popular among the community.  The environment strives for a homey feel–using all of the senses to engage one in its comfortability.  For example, the aroma of freshly baked bread captures the sensation of one's own kitchen.  As the foremost important attribute to the restaurant, bread is baked to quality every night to satisfy customers.  In addition, handpicked employees are chosen to complete the overall sincere and warm-hearted experience.
The hiring process, itself, had given me reason to believe that Panera's operations were organized and safely developed.  They cared so much about finding people who fit into the beliefs of the corporation.  Even as the 'new girl' I was surprised how many people made me feel welcomed with a simple introduction.  Also, the pride and carefulness in training was a process I had never gone through–even though I had previously worked in the food industry.  The procedure first began with a group interview, which later led to a one-on-one.  This allowed the managers to see how each interviewee reacted within a crowd, as well as getting to know them personally. Once receiving confirmation of making the team, an event known as, Plan a Bread, must be attended.  It would inform workers of the company's background and intended goals.  Then, hours of e-learning videos and quizzes continued the process.  Next was the physical training.  Here I would take on different responsibilities to contribute to Panera's service–cashier, barista, back-of-house, and food production.  This would take weeks.  Even with training completed, the learning never stopped.  Each season, a 'bread bash' is held.  This mandatory meeting gathers up all of the employees within a location.  The objective of the meeting is to inform everyone about new menu additions and give them a little taste.
This is a perfect example of a company who cares not only about service and food, but about its family of employees.  Doing their best to have knowledgeable workers who know what they are a part of, Panera's organized management creates a warm environment for all to enjoy.  Now knowing of the process that happens behind the scenes at Panera Bread, do you agree or disagree that they hold a smooth operation?