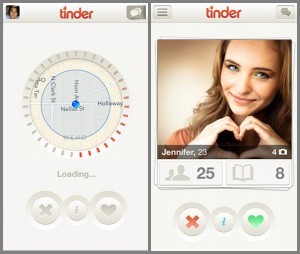 In class, the topic of new product opportunities was discussed.  Of these opportunities included (1)  understanding the consumer and (2) technological change.  In 2014, a company known as InterActivCorp (IAC) took advantage of these opportunities to learn about consumers, their wants, and the modern use of technology.  As a result, a different form of social networking was born to success–Tinder.
The process of matchmaking through the Tinder app is simple and to the point.  The user connects their Facebook account with the app. Next, you input your matchmaking preferences.  Then, a profile picture of individuals in the area who match your preferences will show up on screen.  By swiping the picture to the left represents there is no interest.  By swiping the picture to the right, indicates some interest or attraction you are willing to explore.  If that specific individual also swipes your picture to the right, a match is made.  This unlocks the ability to chat with one another and take that next step into the relationship.
InterActivCorp took the opportunity to understand their customers and cater to their needs.  By targeting a younger audience, unlike other famous dating sites, a simple and modernized form of matchmaking has grabbed the attention of many.  Some of these factors that attribute to Tinder's success include:
Simplicity:  The app is strait forward and easy to use.
Efficiency:  Countless possible matches can be scanned in seconds.
Security:  With the ability to synchronize with Facebook, it becomes harder for others to lie about who they are.
Assurance:  The concept of not being able to chat unless there is a mutual interest for each other provides more confidence in the process.
Accessibility:  In the form of a mobile app, everything is held at the palm of your hand.
Ability to Encounter:  Only individuals who are in your selected vicinity will show up as possible matches.
These are not the only factors that attribute to Tinder's popularity, however.  In much simpler terms–it's fun.  The entire operation is like a game.  There is mystery and excitement.  Not only that, but many of the photos that show up on screen may show to have mutual friends.   The awareness of common connections already creates an idea of possible shared interests.  By including those living in surrounded areas creates more of a reality.  Knowing you can meet up and attend dates without worrying about long distance, holds more promise in the relationship.
In these ways, Tinder has triumphed with the help of an audience holding common goals–to mingle and meet great company.  With such attributes and such deep understanding of customer wants, this app has prospered greatly in the past two years.  Personally, I believe that the creators of Tinder took an opportunity at hand and created something original of an already known idea.  Building upon the concept of social networking and online dating, this new form of interaction has impacted many.  What do you believe makes Tinder so appealing to its users?  Will Tinder's success last in today's world, or will another new product opportunity take over its fame?
http://www.gq.com/life/relationships/201402/tinder-online-dating-sex-app