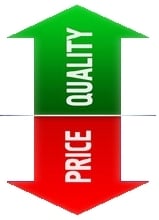 As a customer how do you measure quality? Would you settle for lower quality due to lower price? Does the economy hurt the companies that don't lower price because people cannot afford the same quality with the reduced income? These questions are raised in the article "High Quality Products Is Key for Chicagoland's DK Organics" on constructionequipmentguide.com. DK Organics emphasizes product quality over any other key factors such as price. Many businesses compete by lowering price for a product and then eventually which leads to lower quality. Many well established companies choose to not compete with lowering price or lowering quality but rather with adding features to their product to attract customers rather than losing their reputation. After all, a reputation lost takes a lot of time to gain back which some companies are smart not to lose.
However, it is independently determined if a company is willing to be known as a low price company that attracts most of the lower and middle class therefore does generate high profit. On the other side a company like DK Organics can still be stable in a bad economy with not changing their price but maintaining quality and continuing to stabilize their reputation as well. Measuring quality is different for each firm as discussed in class. Companies have to choose between value based quality to compete.
ISO 9000, quality system, requires the companies to focus on customer's requirements, needs and expectations. ISO 9000 exists to guarantee equity in the marketplace. Reputation for companies are built through customer review and what type of customer's shop at the stores builds the reputation for the companies. on DK Organics website it is stated on the home page that "Our material yard carries top quality mulches, composts, soils, stone and sand. "(dkorganics.com) Material yard is bold to emphasize quality regardless of the price. "high value experience every time!" (dkorganics.com) again refers to quality that the individuals will get out of the product which can be measured by customer's satisfaction and the rich lasting result of the soil. DK Organics product can be purchased by individuals but it is usually provided through a contractor "a service" in order to receive the product, which could cost extra money but quality is still measured high.
When a product cannot be purchased by a customer by itself easily and needs a service provider to obtain the product also increases the value and quality of the product. This could be also considered a great marketing strategy to generate more revenue by adding a service to the product. DK Organics can be considered a great business because landscaping is very important and public places will always hire someone to do the job for them instead of doing it on their own, thus generating revenue for the company.
Sources: http://bit.ly/112Ni1p