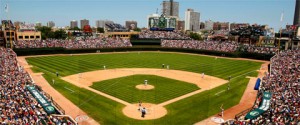 Wrigley Field is one of the most notable sports venues in the nation. It has been located in the heart of the Wrigleyville neighborhood of Chicago since the beginning of the 20th century. Being one of the spearheads of the economy of the neighborhood, it brings in customers for local businesses.
Recently, Wrigley Field has been undergoing construction the the outfield bleachers, with the addition of the Budweiser section in centerfield. One of the major plans the new Cubs owner, Tom Ricketts, has been to put a video board in left-center field since it is one of the few arenas that has yet to succumb to the trend. Ricketts has been pushing this addition for months though many fans as well as sponsors are completely against it. Becoming desperate, Ricketts threatened to move the stadium to a different location so that he may install the board. Many thought he was bluffing as the the field and neighborhood are the reason for the Cubs success as they are not the best team in the league.
As the owner of one of the most profitable teams in baseball but has a losing record, is it really a wise choice to threaten to move the one thing that keeps the fans coming? Is it worth it to anger sponsors as advertisements would be blocked and removed? Is it worth it to completely block an entire section that has been generating revenue for years and has become part of the Wrigley Field experience? No. The fans are the driving force of this organization. It is shocking that a team fighting a 68-year curse is the most profitable team with the most loyal fanbase. A video board would be possible but would not go over well with sponsors. Threatening the fans, though,will not help Tom Rickett's case in putting a video board in left field. Any sport's fan can tell you that they do not respond well to threats.
Moving Wrigley Field would also affect the local businesses as they generate a large amount of their revenue during the summer months of baseball season. Owners of the team as well as their investors would be faced with a difficult decision of where to move the stadium as well as the problem of redesigning and building it as well, unnecessarily decreasing their bank accounts of millions. The value of the field itself is worth much more than a video board as many fans would be less willing to travel elsewhere for games. With the ivy covered outfield and classic brick in the low backstop, Ricketts would be unwise to move the field against the wishes of the team's loyal fans.
Source: http://www.usatoday.com/story/opinion/2013/05/08/killing-wrigley-field-will-kill-chicago-cubs-column/2145275/
Source: http://www.usatoday.com/story/sports/mlb/cubs/2013/05/01/chicago-cubs-move-wrigley-field-renovations-tom-ricketts-video-screen/2126331/