Apple, Inc. is one of the largest, most innovative companies in the world, selling not only electronic gadgets for users of all skill levels, but also how it manages inventory and forecast for its demand. The company has devised new inventory management strategies that have become a benchmark in the electronic industry and examples to many other companies worldwide.
These newly implemented benchmarks not only minimized inventory costs, but simultaneously helped Apple smoothly sail through high profile product launches without giving scope to competitors or allow them to catch up with competitively similar products. The case not only covers inventory management techniques at Apple, but also provide basis for calculating the internal fund requirements of the company based on projected sales.
In the electronics business, companies desire to minimize inventory storage as much as possible to avoid the risk that it won't move to consumer hands. However, when a company underestimates the anticipated demand of a product and produces fewer units than expected, this results in a shortage of inventory, leading to a loss in both customers and market share. Therefore, a fundamental practice for a manufacturer is to keep as little inventory on hand as possible. As Apple's agenda is perceived, they try to keep the right balance of inventory in all of their stores to satisfy customers demand.
Marketing products quickly saves the company storage costs and avoids the devaluation of products due to the continuous improvement of technology both internally and by new innovations from competitors. The best way to keep the inventory at minimized level is to invest and focus on supply chain and marketing continuously. To increase production, it is wise to hire contractors for manufacturing equipment instead of owning one. By doing so, the company will focus on promoting the inventory management in order to sell that specific line of products speedily at the fixed price.
Tim Cook, the manager of Apple, believed inventory loses somewhere between 1-2% of its value each week under standard conditions, the same way milk goes bad soon after the carton is opened. Operating under this philosophy, he put Apple in front of other competitors, such as Dell, by improving the way of moving inventory, where he claimed that "inventory is evil".
There are a few ratios that show how quickly companies can liquidate inventory. For instance, the "days of inventory" ratio measures a company's performance and provides a better idea to investors of how long a company takes to turn its inventory into sales, with shorter periods being better. Likewise, "inventory turnover," shows that a low turnover can mean poor sales and thus products will be sits in a warehouse losing their value; on the other hand, high turnover means strong sales and relatively empty warehouses.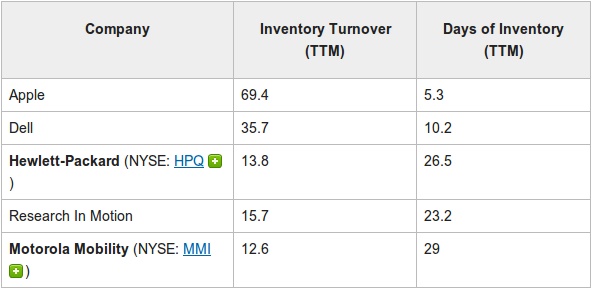 What sort of inventory management practices can other companies learn from Apple, Inc.?
Sources:
H., Victor. "Apple's Secret Sauce for Success Is Inventory Management." Phone Arena. N.p., 29 Mar. 2012. Web. 28 Apr. 2013.
http://www.phonearena.com/news/Apples-secret-sauce-for-success-is-inventory-management_id28558
Niu, Evan. "Does Apple Have a Little Inventory Problem?" (AAPL). N.p., 5 Mar. 2013. Web. 28 Apr. 2013.
http://www.fool.com/investing/general/2013/03/05/does-apple-have-a-little-inventory-problem.aspx
"What Is Apple's Inventory Management Secret? | QuickBooks Manufacturing Blog."QuickBooks Manufacturing Blog. N.p., 17 Apr. 2012. Web. 28 Apr. 2013.
http://quickbooksmanufacturing.wordpress.com/2012/04/17/apple-inventory-management-secret/