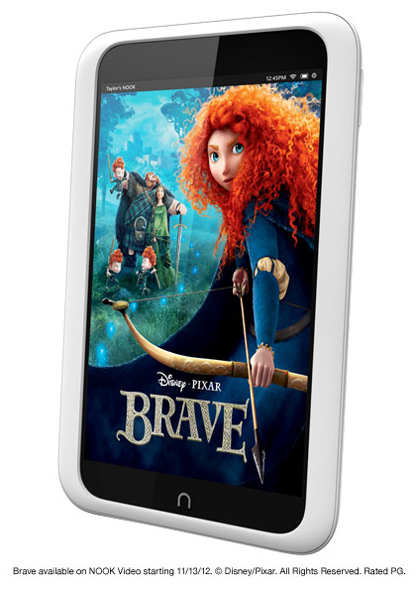 As more and more people have begun to steer away from physical books to e-books, e-readers and tablets have begun to establish themselves as the next big product. Barnes & Noble entered into the Tablet industry with its first tablet, the Nook Tablet, last November in order to compete with Apple's iPad and as well as Amazon's Kindle Fire. With this introduction of the Nook HD, Barnes & Nobles has begun the phasing out of its previous tablets, the Nook Tablet and Nook Color. This new design, which introduces an upgrade in hardware and software, comes in two different sizes, one with a 7-inch screen and the other with a 9-inch screen. This has come on the brink of Amazon's announcement for four new varieties of its Kindle which also offers larger screens to compete with the iPad's 9.7 inch screen.
In order to compete with the offerings of its main competitor, Amazon's Kindle, Barnes & Noble has also introduced a new video service in conjunction with major television and movie studios like Warner Brothers and HBO to allow its users to watch and buy movies and televisions shows on their mobile devices and TVs. Amazon currently offers more services which include a larger app store and video library as well as also providing its customers with its huge product offerings. However, due to the constant threat of Amazon's online retail operations, retailers like Wal-Mart and Target refuse to carry the Kindle which allows for more opportunity for the Nook to be reached by possible consumers without the extra competition of the Kindle.
The tablet category has seen rapid expansion with many competitors entering the industry. According to Forrester Research, approximately one-third of U.S. adults will own some form of a tablet by 2016. That doesn't even account for the amount of families that own multiple tablets for their children to use. So for Christmas, which kind of tablet would you like? Is it possible that the cheaper prices of the Nook and the Kindle can sway even more consumers towards it rather than going for an iPad?
Sources:
http://www.suntimes.com/technology/15389281-478/barnes-noble-launches-new-nook-hd.html
http://www.barnesandnoble.com/p/nook-hd-barnes-noble/1110060426