Eighty for 365 for
Description of the Project and the Charity
Our project for the Project Management 598 class was to create, plan and execute a strategy to support a charity of our choosing. We chose to support a charity called Feed My Starving Children (FMSC), which is an Illinois based nonprofit (founded 1987) which seeks to conquer malnutrition in poor communities. They are 100% donor funded! Volunteers package nutrient dense meals comprised of rice, soy, vitamins, minerals, and dehydrated vegetables which will be distributed worldwide to needy people. Each meal costs only 22 cents with 92 cents of every dollar going straight into the purchase and production. These meals are sent across the globe to over 70 countries (see map below), for children as well as adults. Many people are not aware of the spread of malnutrition in modern day. According to statistics from their website, a startling 6,200 children die from starvation every day.
We hosted two micro events and one final service event, as well as well as developed active social media (awareness) and personalized website for fundraising campaigns. The micro events were organized to raise awareness and raise funds while Online media and personalized websites were utilized to promote the charity and raise funds.
Our first micro event was a happy hour at Beercade, a vintage arcade bar located in River North, Illinois. The event took place on Wednesday, October 8th from 5pm – 8pm. Attendees paid a $10 donation entrance fee and 15% of our group's sales were donated back to the charity. The primary objective was to raise awareness and raise funds. Walk in customers and Beercade employees shared the event and the charity with their connections through social media and word of mouth.
Our second micro event was bowling at River Rand Bowl in Des Plaines, IL on October 18th. Attendees paid $20 for one pair of shoes and two games. We also provided pizza and beverage to attendees. We were able to secure sponsorship from local restaurants who supplied free pizza for the event. In addition, we held raffles, silent auction, and a bake sale at the venue. This event was a major success as we were able to raise more funds than expected, raise awareness for the charity by talking to patrons and finally, by having a lot of fun.
For the final event, we secured 37 volunteers to pack food at the FMSC location in Libertyville, IL. As mentioned before, FMSC uses volunteers to pack foods so that they can save on overhead. We covered two packing shifts for our volunteer events. In addition to offering our time to pack the food, we also learned more about the charity. Our efforts produced the following results:
• 251 boxes packed
• 54,216 meals
• 149 kids fed for one year
• $11,927 worth
Objectives and Success Measures
Our objectives for the project were to:
• Raise awareness for FMSC (Measurable)
• Raise funds for FMSC (Measurable)
• Learn Project Management Skills and Have Fun (Subjective)
To raise awareness for FMSC, we created a Facebook page, a Twitter account and a personalized webpage. We were able to promote our events, share updates and request donations through these mediums. In addition, we promoted our events by creating flyers. We distributed and displayed them in libraries, at local businesses and churches.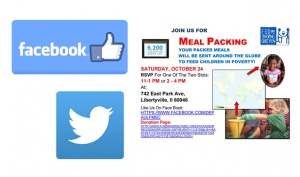 To raise funds for FMSC, we created a personalized webpage. We were able to collect most of our donations through the website. One of the advantages of having the website was that the donations went directly to FMSC and we didn't have to deal with physically collecting donations and sending them to FMSC. We also collected offline donations which we submitted to FMSC in person.
Below are the results of the success measures:
• Donations: $2,200
• Number of people at bowling event: 20
• Number of people at packing event: 37
• Total number of like or followers on Facebook and Twitter: 120
• Maximum number of people reached for events: 471
Project Management Lessons
We have learned a lot of project management lessons during this project including lessons from our successes and challenges. Below are three lessons we feel are important:
• Having a designated, dedicated, and dependable Project Manager on the team. We feel it's important for the Project Manager to be collaborative and not authoritative unless when the project is not moving in the right direction.
• Assigning responsibilities to each team member and holding them accountable is important. If a member is unable to meet a deadline, communicating that to the team early so others can pitch in also important.
• Being able to pivot quickly or having a contingency plan is very important. Initially we started the team with 6 members. The team member who was assigned to coordinate the first micro event dropped out of class and we were left to scramble to identify another venue and event. Fortunately, we had a contingency plan so we were able to reassess and deploy the contingency plan immediately.
Advice
Our advices to future teams doing similar projects are the following:
• Assign a project manager immediately after the group has been selected and start on the events and marketing early. Ideally, someone with experience could be useful but not required.
• When organizing events, be aware of other events going on in that location. Unfortunately for us, we had our first event on the evening the Chicago Cubs were playing a playoff game, so the turnout was not as expected.
• Have a good communication tool and communicate well. We used GroupMe mobile app as our main method for most of our communications.
Photos related to the project. Examples could be event photos, website, team members, etc.
http://www.fundraising.fmsc.org/faf/search/searchTeamPart.asp?ievent=1112103&team=6540715
http://www.fmsc.org/