In 2009 Zynga Inc created the extremely popular online game "FarmVille" that is exclusively played through Facebook.  It launched in about five week with only a 10-person team.  At its peak "FarmVille" had roughly 32 million users per day but has dropped all the way to 2.8 million users per day.  For the last two years Zynga has been pushing to reinvent themselves and regain the market of gamers they once had.  In September 2012 they came out with "FarmVille 2."  To make sure that "FarmVille 2" was a complete success Zynga hired 50 works, including an executive from videogame maker Electronic Arts Inc, which help to create their new 3-D graphics.
Zynga has a lot riding on the success of "FarmVille 2" and has already warned investors that there will be losses next quarter's financial outlook.  Along with delays of production on upcoming game launches.  They are trying hard to recapture their initial buzz by spending $171 million on researcher and development of their product.  By investing more money, they hope that users will be more enticed to buy more virtual goods.   Since their "FarmVille 2" launch in late September 2012 they only had 8.2 million users per days, which is far from what they had expected.
Zynga competes on a differentiation approach, by making their games free they have to make users want to play their game.  For instance Zynga create a unique soundtrack to their game "CastleVille" and also revamping the image to "FarmVille" gave Zynga their competitive edge.  Zynga also witnessed a quick product life cycle with "FarmVille", which lasted about two years.  When  "FarmVille" reached it's maturity in 2010 it had over 32 million users and had less focus on changes of the game.  During its decline many other games distracted gamers with new ways to win prizes and to get ahead in the game.  With the new "FarmVille 2" it is still in its introduction but Zynga had planned a forecast that showed more potential daily players than it currently has.
Zynga is fighting an uphill battle trying to regain is popularity.  But it might take more than changing the image and making incentives for users to continue playing and to get old users back.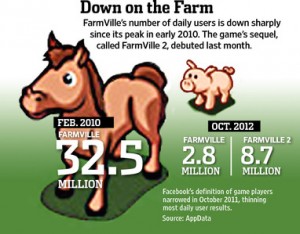 http://online.wsj.com/article/SB10000872396390444657804578053171742809466.html?mod=WSJ_business_LeftSecondHighlights