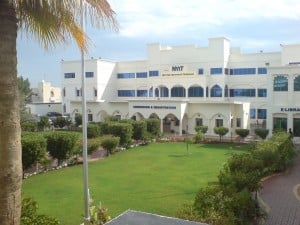 Our recent class discussions about Product Life Cycles made me think about the rise and fall of the New York Institute of Technology (NYIT) – Bahrain. After being one of the best universities on the island, the Management decided to phase-off their program from Bahrain, leaving behind thousands of Alumni, a team of staff members and two large campuses.
"If I can make it there.. I can make it anywhere!" was the thought of NYIT's Middle East Chairman, Dr. M. Husain, after he succeeded in entering the United Arab Emirates education market with the first NYIT campus in the Middle East. His next mission was Bahrain; he believed that a campus in Bahrain could attract potential students living in Saudi's eastern provinces and other GCC countries as well.
Like other organizations, Universities have a life cycle. They introduce their products as degrees to the market.
Introduction:
In October 2003, NYIT-Bahrain opened its doors for new applicants in a medium size villa in Juffair with a small team of academics and staff members. It was the first American university in Bahrain, offering limited Majors in Business and Information Technology. Students liked the idea of studying locally and earning an international degree and many were looking forward to attend the annual graduation trip to New York once they complete their programs.
Growth:
A year later, NYIT had to triple its intake capacity to fulfill the increasing demand. A new campus was built, more sections and classes were offered and the many part-time professors converted to full-timers. Several universities were established in the same year, but NYIT managed to stand out and to gain a large share of Bahrain's higher education market by introducing new degrees in Interior design and Computer graphics as well as having a very creative and active student life.
Maturity:
The university was running at an ideal capacity, where the number of the graduated students was equal to newly accepted freshmen. NYIT was doing great until 2009, when the Higher Education Council of Bahrain decided to come up with a new set of regulations, aiming to standardize all private universities in Bahrain. This would be done by standardizing courses, degrees and majors names and interfering with the Management and the Board's regulations. NYIT could not adapt to the changes like the other local competitors, as all NYIT campuses around the world must follow the same American standard programs, otherwise they would be threatened to lose their International License and Accreditation.
Decline:
Many attempts were made with the ministry to prevent further downturn, but all were unsuccessful.
Unfortunately in May 2010 NYITs' Advisory Board officially declared the phase-off plan of the Bahrain branch, and started cost-cutting and shutting-down departments in order to reduce capacity. NYIT-Bahrain will continue to run until all students graduate by 2013.
Do you think that NYIT made the right decision by closing the Bahrain Campus? Were there any alternative solutions that they could've taken to extend their life cycle in Bahrain?