Team 2- SPENGA for The Anhelo Project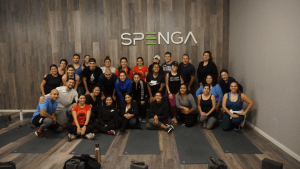 Project Description:
To fully apply concepts learned in our project management class, our team partnered with The Anhelo Project organization to host an event, raise funds via raffle and online donations and increase awareness of the organization. The event we decided to hold consisted of an exercise class, hosted by SPENGA. SPENGA is an hour-long class broken into three workouts: spinning,high-intensity interval training (HIIT), and yoga. Given the class was limited to only 28 participants, we created a Google Form for participants to fill out and submit a minimum donation of $20 to have a confirmed spot at SPENGA. The form was used to track participants, collect class donations and prevent overbookings.
Description of Charity:
The Anhelo Project, (Anhelo meaning Dream), is a non-for-profit organization that consists of a group of student leaders and professionals from various educational institutions and community-based organizations in Chicago.  The goal is to support undocumented students, who despite growing up in the United States and earning a high school diploma, continuously face challenging roadblocks when pursuing a post-secondary education.  The biggest obstacle is financial aid due to their ineligibility to apply for federal and state financial aid.  The Anhelo Project Dream Scholarship is available to undocumented high school seniors, undergraduate and graduate students residing in Illinois, attending any college or university within the State of Illinois.
Founded in 2010
Raised over $100,000
Provided 50 student with scholarships
Results:
We had 27 attendees for our SPENGA class. Originally, we had a full class a week prior to the event, but 4 people cancelled the day before. Three teammates were able to take the class as our contingency plan kicked in to ensure a full class.
Original Goals:
Raise $1,000
28 Participants
Raise Awareness of The Anhelo Project through social media
Actual Results:
Raised $2,000 (a full scholarship for 1 student)
27 Participants
Posted on social media about the event, but no facts about the actual organization
Breakdown of donations:
| | |
| --- | --- |
| SPENGA Class | $620 |
| Raffle Tickets | $285 |
| Online Donations | $515 |
| Grand Total | $2000 |
Lessons Learned:
We assigned tasks to each team member and everyone communicated their progress.  Communication was key, we had a group text chat that we used constantly and responses were prompt. We encourage teams to use the risk management plan and ensure you have back-ups if issues arise. We did not realize the entrance to the SPENGA class was in the back of the building until the day of and quickly mobilized to send out texts to our attendees on the location of the door. Originally, we wanted to bring more awareness to The Anhelo Project by utilizing our social media platforms. The issue we encountered was not everyone had social media and/or we were all on different platforms. This led to the team concentrating heavily on securing class spots and online donations and less awareness.
Advice to Future Teams:
We'd caution future teams on the selection of an organization that may appear politically sensitive (i.e. immigration). A couple of our team members work at corporations that match donations from a pre-approved list of charities. We were not able to leverage the corporate sponsorship such as, the match or raffle prizes, due to sensitivity around our organization.
If you are doing a raffle, secure prizes early in the process to ensure proper marketing. It was easier to sell/market tickets when you already have the prizes selected. The more appealing the prize, the more tickets you will sell.
When choosing a charity be aware of the size of the organization as smaller non-for-profits may not have a full-time staff member and/or are ran by volunteers. Those volunteers may not be as responsive.
Pictures of Event