No One Fights Alone
Our team decided to work with the St. Baldrick's Foundation to raise awareness and donations to benefit the research and support of children with cancer.  We planned an event at the Chicago Loop Sports Bar and Grill in Streamwood, IL.  In order to raise money, we held a raffle and charged admission of $5.  We sought out donations from local businesses and Chicago sports teams in the form of tickets and gift cards.  We also created a Facebook page where we paid for advertising to reach out to people both locally and around the world to spread awareness about childhood cancer.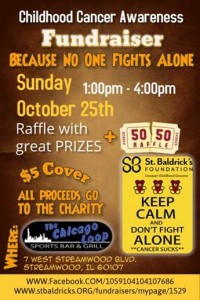 About St. Baldrick's Foundation
This foundation really hit home for some of our group members as some of us have kids or work in the medical field where we see these children fighting for their lives.  According to St. Baldrick's, 175,000 children are diagnosed with cancer each year.  Cancer causes more deaths than any other disease or deformity in children.  This is a fairly new foundation that was founded in 2000.  St. Baldrick's is known for their head shaving events which happen in March.  These shaving events are in support of the children who are diagnosed with cancer and many times lose their hair due to the chemotherapy and radiation treatments.  In the more recent years, this foundation has been supporting many other events such as eating contests, 5k run/walks, bake sales and many more.  This foundation is dedicated the overall transparency with their financials. For every dollar they receive, about 75 cents goes to research for a cure.  To note, their administration fees make up only 3.7% of their total funding.  Our group found this to be remarkable in comparison to many other foundations that we considered.
Objectives
-Raise awareness on all the main social media platforms
-Reach over 500 likes and followers on Facebook
-Raise over $5,000 in donations combined from our event and online outreach
Outcome
Our event alone raised $2,915 which exceeded our forecast of $1,500.  We were able to reach 164 likes on Facebook and 7,303 page/post views.  Through our donations from work, friends and online support we were able to donate a total of $6,010.  We consider this a great success as we not only hit our donation goal but also we reached out to over 7,303 users on Facebook to spread awareness.
Lessons Learned
There are many notable lessons that we learned throughout this event.  We all agree that communication needs to be regular and everyone needs to be on the same page with initiatives.  Our regular communication via text and email proved to be effective and not overwhelming.  Communication is the key to a successful project and we cannot stress that enough.  Second, we learned that we need to be flexible with our plans.  Many things come up along the road to a successful event.  Our group had to cope with many obstacles and changes in order to successfully plan our event and hit our goals.  Third, we recommend setting ambitious yet achievable goals.  If we set a goal of raising $1000, we would have quit fundraising before the event even started. The goal needs to be within your reach but not easily achievable in order to keep motivation high.  Last but not least, we recommend leveraging your network as much as possible.  This was exceedingly important in the success of our event.
Advice for future groups and project managers
-Leverage your networks
-Communicate regularly
-Hold weekly check-ins
-Local businesses are quicker to help than corporations
-Use social media to your advantage
-Set an ambitious yet achievable goal
-Pick a charity that all the group members are moved by
-HAVE FUN
Closing Thoughts
Overall, this project great experience.  We learned and demonstrated project management skills all while contributing to an honorable cause.  Our group had a great time bonding and seeing our hard work pay off.
Thanks all for your support!
-Cancer Sucks- No One Fights Alone!