On a bright September afternoon, six strangers glanced about the classroom, made eye contact with five proximal classmates, and serendipitously assembled into a high functioning team.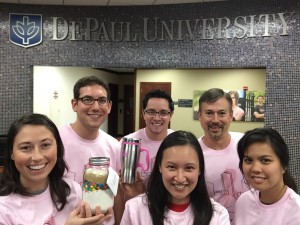 All members were engaged and participated in all of our planned meetings.  Our brainstorming sessions were fun and productive, yielding a series of ideas that we prioritized unselfishly and weaved into a plan.  We selected and vetted a reputable charity with a just and noble cause.  Through the creativity of our team, we soon had a logo exempt from DePaul brand restrictions, an attractive T-shirt design, a cleverly assembled cookie mix for sale, and a series of fun events that were sure to attract many participants and donors.  We were excited by our progress – there was no way we could fail in our mission.  We launched our team Facebook page and Making Strides ACS team site, sent out an appeal through email and waited for our buzz to go viral….
Family, work, and school responsibilities have placed me into an extended social media coma.  I've rarely checked my Facebook profile, and almost never posted anything for the past four years.  Now, due to this class assignment and our social media communication strategy, I began obsessively checking my site for updates and applying as many "likes" to our posts as possible to promote them to my network.  Did anyone out there in Facebook land "like" my posts or the ones on my team site?  Was our message getting through?  Should we consider paying money for Facebook to "boost" our post?  Do we need to invest more money in advertising to raise more money?
Perhaps it's not the quantity of communications, but rather their quality that matters most.  A recent blog post from the site npEngage compiled some good, if not obvious, tips that will likely seem familiar to many readers.  Periodically updating team members and our social network about our progress towards our financial goals, describing how funding enables the programs of the American Cancer Society, and personally thanking our individual donors are critical communications that we can't forget to send out.  Are there any communications that your group has sent out that have been particularly effective in generating responses to your campaign?
During our team's October 4, 2015 yoga event, I found the instructor's connection of our project to the yoga session moving.  Mariel Victoria introduced the class to a difficult (for me) pose, "the wheel," that was selected in the spirit of opening the heart to charity and kindness.  After 75 minutes of physically demanding yoga, Mariel encouraged the class to bring forward any other projects or concerns to share with the group.  Prior to the start of the session, I was prepared to speak to the class with enthusiasm about our events and items for sale.  Afterwards, I knew that my delivery would not have been nearly as effective as Mariel's for that audience.  Many of the attendees stopped by our area and took information, bought cookie mix, or just donated.  For me, this reemphasized the importance of quality in the communication, and I intend to up my game for the remainder of the "Blue Demons for a Cure" campaign.  How will you adjust your message to optimize your project's appeal?