Ok, so the title is corny but while on an Alaskan cruise last week I actually thought quite a bit about project management. What I'd like to do is share a few examples of what I saw and then ask for your thoughts on different ways project management enters into our daily lives but that we might completely miss.
This intricate dance begins the minute you check in online. Since there are approximately 2,300 passengers (this doesn't include crew) who will be sailing, each person is given a 30 minute window during which they can arrive at the dock to board the boat. This really minimizes inefficiency of too many people arriving at once and having to stand in EXTREMELY long lines. See photo below. Once you check in your luggage is taken and put in a room that is organized by floor so that after everyone is on board and has checked in they deliver the luggage right to your room. You don't have to deal with it or worry about it, it just shows up at your door!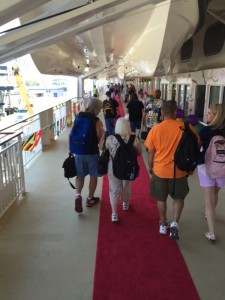 Once we made it to our stateroom we started to look around outside and noticed the two pictures below.
This is a small sample of the food that they bring on board for every cruise and this really made me think about the Food and Beverage Director and how complicated it must be to provide food for 3,300 people (this includes the crew). There are SIXTEEN dining options on board but to help manage it two of the restaurants serve the exact same menu all week, one of the restaurants is a huge buffet serving the same meals all week and then you have a little variety from the other menus, but not many choices.
Lastly, one of the most efficient things they've done is to provide you one single card that acts as your room key and your bank card. AT check in you provide a credit card that they then link to your cruise pass and anytime you buy a drink, buy a meal or make a purchase at the duty free, they simply swipe your card and no real money exchanges hands. I also think this is a genius idea from a sales perspective because you really don't feel like you're spending money – its when you review your final bill before disembarking that you realize the money you've really spent!
I'm curious if others have examples of project management in their everyday lives (besides jobs) that they might overlook but that are truly pretty amazing, like the Davidson Glacier pictured below.