The Chipotle of Pizza
Look Familiar? Well, it's no accident. Just when you thought you couldn't be exposed to anymore of it, Chipotle comes back into your life-this time in the form of another operations management related blog post. But fret not; this post is not solely about the burrito king itself. No, it is about Blaze Pizza- its quick handed pizza-making counterpart where customers can choose from over 30 various topping to craft their own 11 inch pizza in just under 180 seconds- made possible through the utilization of a Chipotle-esque assembly line.  For co-founder Ray Wetzel, who along with wife Elise Wetzel founded Wetzel Pretzels, it is no secret how they formulated their business model. He recalls in an interview with QSR a past lunch outing where he failed to find pizza with his wife and actually ended up at a Chipotle that, "It was sort of this 'aha' moment when we looked at it: 'Why can't we do this to pizza, do what Chipotle did to the burrito or Mexican food?'"
Well they did just that, and they're not the only ones. It seems that Chipotle inspired restaurants combining fresh, quality ingredients and a preparation platform with enough haste to meet the demands of today's on-the-go consumer has caught on- giving chains like Blaze Pizza a competitive advantage. According to a recent Business Insider article by Ashley Lutz, "Growth of fast-casual chains like Chipotle is outpacing traditional restaurants," while sales at chains like Pizza Hut "…declined 2% last year." This chart below, from the same Business Insider article perfectly captures this alarming trend for traditionally paced casual diners.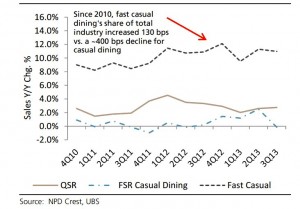 The layout and process design at Blaze Pizza is flawless and something the consumer can count on. It's literally as if customers are viewing a mini supply chain process in front of them as they watch their pizza being made. With easy functions for employees to carry out by simply listening to what the consumers would like on their pizzas, it is easy and inexpensive for Blaze to hire and train cheap labor- an aspect which often burdens others in an industry rampant with high employee turnover which is further complicated by the frequent introduction of new technology and alterations to the menu.
With Chipotle inspiring companies such as Blaze Pizza, where else do you think this type of setup could catch on, and is it strictly limited to the food service industry?
—————————————————————————————————————
http://www.qsrmagazine.com/competition/pizza-s-arms-race
http://www.businessinsider.com/pizza-hut-could-invest-in-fast-casual-2014-9