There are questions that people ask about the route a company should take in order to be successful. The main question is, what does it mean to be successful? Is it always about the money? Configuring a company's operations of benefiting the community may bring out the answer.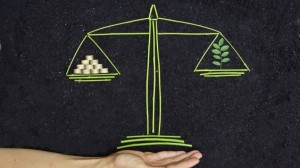 Corporate Social Responsibility has become a huge impact on the image companies portray. One way to look at this would be future investments. I'm not only talking about assets we may gain, but also maintaining a healthy environment we all wish to live in. There are so many products and services that emit toxic chemicals that damage the planet we live in. Now if you don't support or care about the health of our planet, I'm sure you care about the reputation of the company you work for. In today's society, consumers prefer to purchase green products and services over others. From my own experience, when I saw two identical products where one promoted "going green", you can bet I chose the product that supports the health of our environment. Choosing the "going green" route will label your company in the ecofriendly category that will support its marketing campaign.
Addition to helping our planet, Corporate Social Responsibility improves businesses' public relations. As mentioned, consumers prefer products that do not harm our environment. Representing an ecofriendly company can also have an opportunity to connect with potential suppliers. Going green includes conserving energy and using recycled products. These acts will reduce costs of businesses and attract suppliers. Think yourself as a supplier. Would you rather partner with a business with low costs and responsible actions, or one that does not have these attributes? I don't think I need a response.
Let's get into the most desirable component that derives from Corporate Social Responsibility. Profit. To put it out there, thousands of businesses are profitable who aren't socially responsible. They may even be more profitable than businesses that are socially responsible. However, looking at a long-term perspective, businesses that are socially responsible are more likely to stay profitable. There are numerous options of cost savings such as recycling and reducing energy consumption. Maintaining an appropriate level of social responsibility will look more appealing to the community, allowing businesses to expand.
Benefiting both the consumer and the supplier will result in a successful company and a happier community. I personally took a class on Corporate Social Responsibility where I learned how much of an impact this trait could do for a business. The best method for a business to succeed and maximize their revenue is to benefit the community and establish a reputation. Taking these steps will open new opportunities and accomplish the desired goals. With this in mind, LET'S GO GREEN!
Do you believe that Corporate Social Responsibility can determine how well a business will operate?
Other than "going green" what other ways do you believe Corporate Social Responsibility can be portrayed?
What do you think is the most important aspect of Corporate Social Responsibility? Is it the reputation of a business or actually improving our environment?
Sources:
http://www.businessrevieweurope.eu/leadership/164/Feature:-The-Evolution-of-Corporate-Social-Responsibility
http://smallbusiness.chron.com/benefits-going-green-business-3225.html