In a June 12, 2013 article, I read from the Project Management Institute (PMI), it says that in a recent study the government risks $148 million for every $1 billion dollars spent.  This is $13 million more than the private sector.  Mark Langley, PMI President and CEO says there are findings where the government is doing very positive things, but he also goes on saying that just 46% of government organizations understand the value of program management.  He also says that program success rates are declining with just under two-thirds of programs meeting their original goals or intent.
He talks about how both the government and the private sector have work to do in effectively aligning program management with organizational strategy and mission.  He says that more than half of the government respondents acknowledged that they frequently focus on specific departmental objects as opposed to the strategic goals of the organization.  Only 11% of the government organizations have a senior-level program management related role, compared to 22% in the global average.  Only 37% of respondents reported there is a formal process for developing program management competency and only 25% reported having a defined career path for those engaged in program management.  This is 17% lower than the global average.
These are staggering numbers when I read them.  I decided to see what this meant to the taxpayer.  I went to the Federal Reserve Bank of St. Louis to plot what the government has spent over the last few years.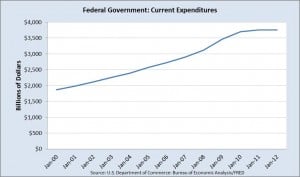 With the exception of the last 2 years, the government has averaged a 7% increase in spending year over year since 2000 and we spent $3.7 trillion in 2012.  If we just looked at the $13 million more in risk that the government takes over the private sector it adds up to almost $50 billion per year as you can see on the chart below.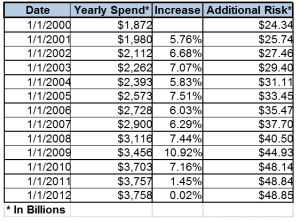 With all the focus on project management and business efficiency, I'm frustrated that the US can't move forward with this and pave the way for a better run Government.  As the PMI published chart shows below, there are great rewards for a mature project management organization.
Two things stood out to me in this article.  First, I find it extremely disappointing that project / program management doesn't align with the overall strategy and that departments are working in silos.  I know this isn't unique to Government.  Unfortunately, I've also experienced this at a few different places and struggle with it today.  Secondly, I don't know how the government does their budget, but we consider risk when putting our budget together based upon probability and impact.  This means there is less money to use for other projects and programs people want.  I struggle with this topic because we want to ensure we capture all risks of a project, however, it ties up a lot of money from being put into other uses.
How have you or your organization ensured that the projects/programs align with the corporation's overall strategy?  How have you been able to keep everyone working toward the common goal and not focus on his or her own segment?
How do you plan your budget?  Do you consider risk?  How do you balance appropriate risk with risks that tie up your funds for other projects?