Like many Americans, it is natural to be bothered by a few things in your work environment.  Some people are bothered by a coworker, their salary, or even their fear of being fired.  These, and other factors, are categories of stress in one's work environment. 
We all know that the higher we are stressed at our jobs, the higher the chances that the quality of our work can progressively decrease.  So where does this leave the quality of America's output, as the stress levels of the workers are progressively increasing?
Harrison Interactive, of Everest College, conducted a study of stress factors at work and how much individuals are bothered by it.  This study was conducted by phone, using 100 adults, between February 21st, and March 3rd.  This study was conducted last year, also, and according to their sample size, 73% of American workers were stressed by some factor of their jobs last year.  It is no surprise that this year's study (released earlier this week) shows that, at a number of 83%, even more American workers are stressed at their jobs.
Below is the data from the study:
Percentage of Stress Factors at Work for American Workers by Year
              Stress Factor
Year 2012
    Year 2013
Low Pay
11%
    14%
Unreasonable Workload
9%
    14%
Commuting
9%
    11%
Annoying Co-Workers
10%
    11%
Working Outside Chosen Career
8%
    8%
Work-Life Balance
5%
    7%
Lack of Advancement Oportunity
5%
    6%
Boss
4%
    N/A
Fear of Being Fired
N/A
    4%
Since last year, each individual factor that didn't remain constant, increased. The top two stress factors this year are pay and an unreasonable workload. Last year pay was still one of the top two stress factors along with annoying co-workers, which increased this year, also, just not as much as the stress of an unreasonable workload.
With the quality of American output at risk, what can companies do to keep the stress level of American workers down?  My personal opinion is to start by creating a comfortable work environment.  Some companies, such as Google, do many things to keep their work environments as stress-less as possible.  Google offers many perks to its staff, such as relaxation rooms, giant slides, free meals via gourmet chefs, motorized scooters to move through the offices, the option to bring pets to work, prayer rooms, company outings, and many more!  There are also some days where the employees have to stop the work their doing, to do something fun that they enjoy.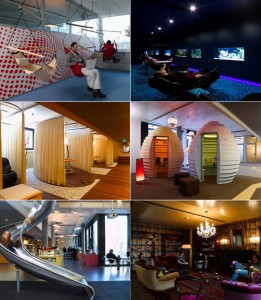 If all companies headed towards creating a relaxed environment, the stress levels of employees would decrease, increasing the quality of their work. Because pay has consistently been the number one stress factor of American workers, employers should consider giving raises to the well-deserving employees. Keeping employees as stress-less as possible can be considered as an investment in the increased quality of the employees' work.
Because commuting is another high factor, companies should also consider parking perks for employees, where they can park for free in a company parking lot. Businesses can also consider a program with their city's transit services, where the employees can receive discounts on bus and train passes.
Sources:
Forbes- http://www.forbes.com/sites/susanadams/2013/04/09/stressed-out-at-work-its-getting-worse-study-shows/
Chicago Tribune- http://articles.chicagotribune.com/2012-08-26/business/ct-biz-0827-workplace-stress-20120827_1_workplace-stress-annoying-co-workers-everest-college
Global Staff- http://globolstaff.com/the-perks-of-working-at-google.html