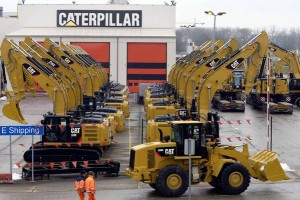 After reading an article in Bloomsberg Businessweek, I am left questioning the business strategy of the world's biggest manufacturer of construction and mining equipment, Caterpillar. In this article, Doug Oberhelman, chief executive officer, discusses the problems and vision he has for Caterpillar. Oberhelman believes that looser trade restrictions, lower corporate tax rates and greater infrastructure spending are key policy changes that will boost exports and create jobs within the company and industry. The opinionated CEO participates in trade organizations, CEO groups like Campaign to Fix the Debt, and visits Washington DC to promote international trade deals and corporate tax reform.
While Oberhelman seems to advocate positive ideas, Caterpillar plays host to many unhappy workers. In 2012, Caterpillar had record-breaking sales of $66 billion, producing $5.7 billion in profits, yet some employees are surviving on food stamps. As the CEO's salary, wages and benefits increase- due to the need to remain competitive at every level, claims Oberhelman- factory workers have incurred health care and other benefit cuts as well as low or frozen wages.
Since 1991, Caterpillar employees have gone on multiple strikes- two of which spanned more than six years and led to higher divorce and suicide rates within the company. Strikes have been caused by employees unwilling to accept 50 percent pay cuts, others by employees who noticed unequal skill-wage levels. According to Moody's Analytics, as a percentage of gross domestic product, corporate earnings recently hit their highest level in more than 60 years, while wages fell to new lows. One employee has worked for Caterpillar since 1999 and receives $15.66 per hour, yet the company claims to offer market-based wage increases, pay quarterly bonuses to workers and offer locally competitive rates. The worker's leverage has weakened due to the declining number of manufacturing jobs combined with the decline of unions. In order to keep profits high, Caterpillar released 30,000 workers in 2009. Even in times of high profitability, they will not share the wealth because they want to save it for times of low profitability. In 2012, Caterpillar made $45,000 per employee, increasing significantly from $12,000 per employee in 2007.
Oberhelman often addresses the need for better school systems within our country, believing that 60 percent of people in Peoria, Illinois who apply for blue-collar positions are not suitable due to lack of basic skills. Some economists disagree with Oberhelman, however, by saying that the skill gap is because companies like Caterpillar have created it by demanding too much from workers for too little pay. When asked by the journalist when Caterpillar worker's wages will rise Oberhelman replied, "When we start to see economic growth through GDP."
Is there a way that Caterpillar could decrease operations costs and put the saved money towards employees' salaries? Is Oberhelman's approach to success, selfish? Should Caterpillar hoard money during profitable times in order to be prepared for times of lower profitability? Could the Caterpillar issue be resolved through improved operations management? Could an increase in automation relieve workers of some stress while creating higher profits and satisfying the CEO?
Kimes, Mina. "King Cat." Bloomsberg Business Week May 20-May 25 (2013): 68-72. Print.