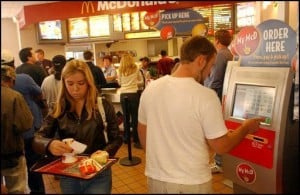 In today's growing world, it seems as if every one wants exactly what they want exactly when they want it. To accommodate this growing trend among needy and picky consumers, many businesses have delved into the world of mass customization. Mass customization is a "rapid, low-cost production that caters to constantly changing unique customer desires" (Heizer and Render 274). This process deals with high volume and high variety, with many parts and component inputs that result in many different and unique output versions. Mass customization dominates almost every economic and industrial sector – shoes, clothing, phones, computers, and now…food!
Due to the increasing trend of mass customization and consumer preference, fast food chains such as McDonald's and White Castle have implemented kiosks into a few of their stores in the United States that allow customers to create their own customized order at their convenience. If you think about it, it really is ingenious. How many times have you gone to McDonald's or any other fast-food restaurant, ordered a meal with certain specifications, and the cashier did not relay that information to the kitchen, and your order was messed up? As a picky eater, this happens to me all the time, and it is frustrating. Through the implementation of self-serve kiosks, customers can order their weird or picky combinations in their own privacy without having to repeat that same order back to the cashier multiple times to make sure they have it down correctly.
There are many advantages to using kiosks in fast food restaurants: reduced labor costs, enhanced customization, speed, convenience, and standardized menu information and marketing messages (Blank). Much like how Chipotle utilizes its more well-trained employees during peak rush hour times, these kiosks help alleviate pressure from the employees in restaurants by assisting with customer service (Kiosk Europe). However, there are also some disadvantages to using kiosks when ordering food. These include initial cost for purchase, training, and installation, customer support for when the customer does not understand how to use the machine or when the machine does not work, and maintenance. When looking at the disadvantages, I cannot help but draw comparisons to self-checkouts that many grocery and convenience stores utilize, which we briefly touched on in class. While these kiosks and self-checkouts might save time in theory, if a customer is unfamiliar with the technology, the process takes much more time than ordering or checking out from someone who is trained for that specific task.
From personal experience, I think that kiosks are good in theory, but not so much in practice. This summer, I travelled to Berlin and Prague with DePaul for a business seminar/study aboard. In Berlin, a few of us decided to check out a European McDonald's to see the differences between an European McDonald's and an American McDonald's. Besides the change in general atmosphere, we noticed four kiosks, where people were placing their orders. We decided to try…and we failed. Not only was the kiosk in German, but we could not figure out how to change the language settings, and we were not familiar with the European menu!
Have you ever used a kiosk or tablet to order at a fast food restaurant? If so, how was your experience?
Will fast food kiosks go down the same path as self-checkouts at convenience stores, or will they have more success?
Sources:
Blank, Christine. "Burgers By Design." QSR Magazine. January 2014. http://www.qsrmagazine.com/exclusives/burgers-design
Heizer, Jay and Barry Render. "Process Strategy." Principles of Operations Management. 272-294.
Kiosk Europe. http://www.kioskeurope.com/ke/why-self-service/markets/fast-food
Meehan, Sarah and Jayne O'Donnell. "Self-lane checkouts boost convenience, theft risk." USA Today. 9 April 2012. http://usatoday30.usatoday.com/money/industries/retail/story/2012-04-06/self-scanning-checkout/54117384/1
Photo: http://www.qsrweb.com/articles/mcdonalds-aggressive-change-includes-localization-digitization/