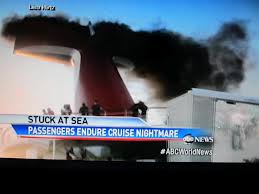 It's been a nightmare at sea for this seasons start to the 2013 Cruise Season. From passengers going overboard, crew members dying and of course the horrific Carnival cruise ship that suffered a mass power outage that left over 4200 passengers stranded in the Mexican Gulf, the industry has been hit with new challenges.
Although, Carnival Cruise line has been getting the blunt of the bad media coverage for several equipment failures, the whole industry of cruise ships still have been affected. The Cruise Industry is now facing challenges of attracting new passengers due to recent events coupled with the old challenge of increasing operational costs and competition.
With high fuel costs, expensive airfare, and a rougher economy, almost every cruise line has been forced to cut costs while still trying to attract consumers. The Carnival Cruise ships have been proof that cutting costs in procedures, maintenance and quality crew members in order to provide over the top amenities and attractive destinations at reasonable costs to passengers have major consequences.
The challenge is not just picking attractive destinations and providing better service and perks then the next cruise ship.
All cruise lines have been optimistic in light of the horrific at-sea events, through the release of big upgrades, innovations and reengineered cruise ships in attempt to save the industry and their images. Cruise lines are taking on the challenge by restructuring ships to be the destination. An editor of cruisecritic.com , Caroyln Spencer Brown believes that "When you start focusing on shiny new ships with funky, fun, new amenities and features, the market comes back." Or at least that is their hope.
The Royal Caribbean will release more thrill seeking attractions like bumper cars and simulated skydiving, while the Disney Cruise line will be redesigning their old ship to mimic the Marvel Comic Superhero theme. Several other major attractions like water parks, state of the art dining , world class exercise classes are all features that are changing the cruise line industry; it's no longer just about the port destinations, its the ship itself that delivers the true experience.
While other cruise lines are adding over-the-top products and services to their ships, Carnival Cruise is sticking to product improvement. They have cancelled several cruises and spent over $300 million on safety upgrades and emergency generators to enhance their dependability and prevent anymore-technical nightmares.
Although, the thrill of walking on a plank, ice bars, eccentric food from Food Network Chefs, themes and celebrity shows sound enticing…I think there is a point where safety should not be forfeited. Also, is it really right for Cruise Lines to believe the ship "experience" outshines the actual destinations?