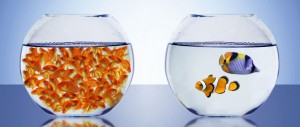 Every day I encounter the question, "what is better, quantity or quality?" Should I buy a shampoo from L'Occitane of 8.5 ounces for $20 or should I purchase a shampoo from the brand Suave of 12.6 oz. for $3.49? Should I pay $4 for coffee from Starbucks or should I just go to Dunkin Doughnuts and pay half of that for a coffee? Recently I have experienced the other side of the quality vs. quantity debate, no longer as a customer but as insider. The questions that I ask myself are no longer "should I buy this or should I buy that? Should I spend a few extra dollars in the organic restaurants or will McDonalds do?  Instead they have become questions such as, Is the company that I work for working towards providing the best quality service possible or are they just choosing on having more quantity and leaving the quality in the backburner?
I worked for a small catering company who specialized in wedding, house parties and corporate events. If you were an employee from that company you knew that quality was always the top priority. I guess you can say we lived by the motto "the customer is always right," and "there is never such an answer as a no." To other people who work as servers like me, who knew about the company, they knew that not only were the customers would be treated with the outmost quality but that the staff will be treated the same way. The quality given went from the food to the service provided.
A few months back that same company was bought by a much bigger company who specialized in event planning. Their goal is to gain market share in the catering business, and possibly become one of the biggest catering and event planning business in the city.
The strategies used by this company in the overtaking was to let go of the personal and bring new and innovative minds. New workers were hired for less, without being properly trained or told what the company stood for. Old employees were left to train new employees on procedures and principles that were not in place any longer and that new ownership had yet not communicated.
As we saw on our first day of class with the activity paper puppets, sometimes certain activities take so long to accomplish or we are just so focused in reaching that goal in the fastest possible way that we sacrifice the quality put into a product. In paper puppets, some of the paper that was damaged, passed through the line of workers completely unnoticed.
The questions presented are:
Do you have to sacrifice quality in order to obtain quantity? Can there be a balance?
Does hiring cheaper labor means sacrificing quality?
Is ten thousand replicas of a Picasso painting worth more than a real Picasso?