Nowadays it's rare to hear about someone who did not shop or order a product online. I remember my first time I decided to buy a book from Amazon since year 2000 and I felt that I'm not going to receive the book and the money I paid is gone as I didn't shop online before. The second step after placing the order is the invoice; there were multiple options for shipment based on duration and the higher the duration (number of days from placing the order to delivery) the cheapest it costs. As a result, Amazon allows me to adjust my invoice based on my preferences and urgency on receiving my order; I place my choice as the most urgent as I remember it was three days. Next day my friend told me that I can track the shipment then I login to Amazon and look for tracking shipment, it was showing that my order has left the U.S. and it's in London ready for shipment to Bahrain. At last I got my book after three days as I requested and I was happy and surprised at the same time.
How Can Amazon or any online shopping portal handle customer orders shipment? Do they do it by them self or do they outsource it to other company?
When I receive my order it was packed in FedEx box then I realized that Amazon is outsourcing the function of online tracking,
handling delivery and customs clearance.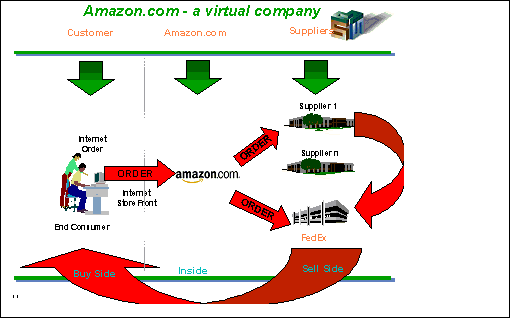 We have learned from our first session that Operations Management has ten critical decisions and one of them is supply chain management. It is obvious that Amazon supply chain manager find outsourcing logistics is advantageous in improving delivery reliability and speed.
As Amazon is focusing in its core business, the concept of outsourcing supply chain is now entrenched as best practice in most sectors. Whether the business is shipping within Asia or across the globe, FedEx is in the business of providing integrated supply chain solutions to customers. The many benefits of an efficient supply chain will help contribute to the business most important goal – improvement of bottom-line profits.
Benefits that can be achieved by working with FedEx include:
Visibility of inventory flowing through the company supply chain
Reduction of unnecessarily high inventory levels
Enhanced customer service by meeting tight deadlines and complex requirements
Reduced warehousing costs
Is FedEx more efficient in handling shipment, delivery and custom clearance than if Amazon did it by itself? Is Amazon driving down cost by having FedEx as a partner ?
Watch the amazing video about FedEx http://www.youtube.com/watch?v=Cdm2t952jYg
For more information about FedEx please visit www.FedEx.com