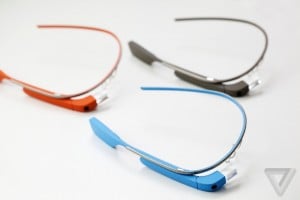 Since 1998, Google has had a mission "to organize the world's information and make it universally accessible and useful". Over the years many would say this goal has been accomplished. Therefore, it is no surprise that Google has "earned their keep" among internet users and has become the face of many home internet search engines around the world. Now Google is stemming off the confines of their internet browser and will be showing the world an entirely new meaning of their mission with Google Glass. With Glass, there are people who think Google will literally be the face of the world for years to come.
In my opinion, the idea behind Google Glass is not as ground-breaking of a product as many have made it out to be. The idea for a wearable recording product has been introduced to the market already through Oakley Video camera glasses X300, and the Go Pro Head Video Camera. Also, we have seen wearable headsets for talking on the phone introduced already with technology such as Bluetooth headsets, etc.
However, I think Google's innovation lies in their ability to incorporate and capitalize on their already previously established products using Glass. With features such as their voice command technology being synced with "Google Translate", their digital voice assistant ("Google Now ") being incorporated to help keep track of your daily habits, "Google Maps" being the products GPS system, and even the Google search engine being at the consumers disposal to use when seeking information from their Glass device. Also, Glass will be able to meet the modern day needs of the cell phone for consumers with technology that lets you record and take pictures instantly. To me the idea behind the quality function deployment of this product is brilliant because it meets the modern day needs for cell phone consumers, and also meets the needs for Google's consumers and translates all of this into one "grand-daddy" product.
But what do you think about the target design of the product? How do you feel about people wearing a live streaming, recordable device on their face? One parent commented, "As a parent, the thought of Google Glasses being anywhere near a place where my small children exposed themselves in the open like a restroom scares the heck out of me". I think this parents concern is valid and so does Google.
Google has been working a way to tackle this issue of privacy through releasing their product to Google's developers, journalists and a few other early adopters to test. While there still hasn't been any release of       information about Google deciding a technological way to fix this, there have been suggestions of adapting etiquette techniques of when and where to take them off.
To me it seems unrealistic that everyone will obey "Glass Etiquette." Also, adapting etiquette techniques could take away the sense of "freedom" Glass truly offers for consumers. If certain restaurants, bars, coffee shops, etc, don't allow the device to be worn, it seems owning one would be more of a hassle. Thus, this issue of privacy could dramatically impact the demand for their product and Glass's competitive advantage in the technological industry.
If there were restrictions implemented to where Glass can be use, would you as the consumer feel like the product has met your satisfaction? How will this issue of privacy effect the product life cycle of Glass? Why do you foresee a long product life cycle or a short product life cycle?
 http://www.nbcnews.com/technology/wear-it-well-time-establish-google-glass-etiquette-6C9780067
http://timesofindia.indiatimes.com/tech/slideshow/googleglass/Google-Glass-7-cool-features/Google-Glass-7-cool-features/itslideshow/18609271.cms
http://www.zdnet.com/google-glass-privacy-concerns-come-to-the-head-7000014431/
 http://www.google.com/about/company/