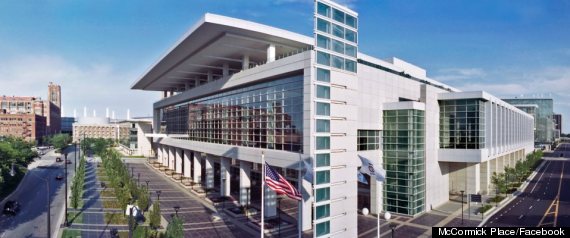 DePaul and the city of Chicago are partnering to build a "large-scale tourism and economic development project" near McCormick place that will be home to DePaul's men's and women's basketball programs. The city of Chicago will contribute $100 million, and DePaul will donate $70 million in order to make this plan a reality. The blueprints include street-level restaurants and shops, a 400-room hotel, an elevated pedestrian walkway, and will hopefully create 3,000- 5,000 permanent jobs and 5,000 additional construction jobs. DePaul also gains naming rights, income from DePaul ticket sales, and revenue from the Big East Conference.
This collaborative effort has been controversial since the city of Chicago does not appear to be in a financial place to make this sort of business move. As an example from recent news, 50 Chicago public schools are closing both due to lack of enrollment and for cost-cutting purposes.
DePaul's basketball program is not exactly a powerhouse, and game attendance continues to dwindle. This facility will be closer to campus than the current Allstate Arena location, but it will still be 50 blocks away which doesn't make the proximity ideal. To make matters worse, the United Center offered DePaul the option to benefit from 10 years of free rent plus all ticket revenues, but DePaul declined the proposal. As tuition continues to rise, many students question whether this is the way they feel their precious money should be spent. City representatives claim that the arena will break even the first year, but the numbers used to create these predictions seem to be optimistic and unrealistic.
On the other hand, a project like this could create jobs, further stimulate tourism, and increase tax revenue which could possibly strengthen the city of Chicago which has been struggling. "The majority of the money the city plans to put toward the construction is coming from the Metropolitan Pier and Exposition Authority, which is a separate entity from the city of Chicago. This basically means the MPEA cannot use its resources to help avoid the struggling school system as its sole purpose is to expand Navy Pier and McCormick Place, which are two of the most frequented spots by tourists." (Fox News) The new arena also offers DePaul an opportunity to rebuild their basketball program by encouraging a higher caliber of athletes that will be enticed by the top-notch facility.
What were your thoughts when you received the e-mail announcement about this new "partnership" from President Holtschneider? Do you think this is a good investment for DePaul? Do you think that it will help DePaul's basketball program in both attendance and recruiting? Do you think this project will benefit the City of Chicago in the long run?
Sources:
http://www.foxnews.com/sports/2013/06/12/full-court-press-too-hard-to-ignore-benefit-new-depaul-arena/ http://college-
basketball.si.com/2013/05/30/the-obvious-lunacy-of-depauls-new-arena-plan/
Photo Source:
http://www.huffingtonpost.com/2013/05/14/new-depaul-arena-at-mccor_n_3274426.html