Project Description
Our team raised funds for Chicago Cares, an organization that builds volunteer experiences to develop and engage the community.
Chicago Laughs was an improv comedy event that was held at Comedy Sportz on August 5th 2014, to raise money for Chicago Cares and create awareness of their cause. Tickets were available for purchase at www.comedysportzchicago.com/chicagocares. Our main audience was comprised of event volunteers, coworkers, Chicago Cares supporters, family, and friends. Additional money was raised through online donations, corporate donations, and silent auction.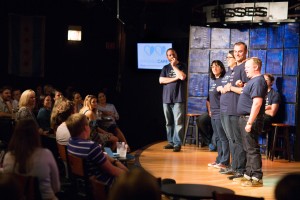 The event was fully catered with a steak and chicken taco bar.  The main entertainment was a two-hour live comedy act presented by experienced improv comedians in addition to two hilarious members of our team.
The event was put on with a budget of under $100. The facility, catering, talent, and venue were all donated in support of Chicago Cares.
Project Objective and Methodologies Used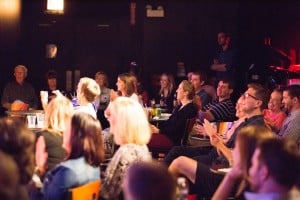 Raise over $5000
Leave our charity, our volunteers, and our team better off than they were two months ago.
When we were creating our project plan our goals were to raise $7500 and have the event attended by over 100 people. By the time we reached the implementation stage of the project, we had focused in on the results we could realistically reach within the time restraints and available resources.
Our methodologies were to focus on one on one contact to encourage ticket sales. We did mass marketing on Facebook, Twitter, and mass email but we found it was more effective to reach out to people individually.  To stay organized, we assigned tasks and areas of responsibility to each team member. We had clear set deliverables and had weekly group meetings to make sure milestones were being meet.
The final amount donated to Chicago Cares was $5530 and with an attendance of 100, including all volunteers.
Advice for Future Teams
1)      Be sure to make realistic goals, especially with money goals and event attendance expectations.  There is nothing worse than having high expectations and not being able to deliver.  Create realistic and attainable goals for your team.  Make sure the scope and deliverables of the project are well detailed and followed throughout the project.  Try to stay on course and don't get distracted or over burden yourself by trying to do too much.
2)      Success begins with planning.  A well thought out and detailed project plan will prove to be extremely vital.  Be sure to cover all your project management basics.  This will create a seamless event that will allow your team to flawlessly execute.
3)      Personalized promotion.  It was really neat to think about all the tools and technologies at our disposal as far as promotion was concerned.  Having the ability to easily use social media like Facebook, LinkedIn, Twitter, etc. seemed like a good prospect.  Sending out constant email blasts felt like it would be extremely effective.  As it turned out, approaching people individually with a more personalized promotion approach deemed to be much more effective.
4)      Remember the cause and enjoy!  Don't get caught up in just trying to raise the most money possible or use the project as a competition.  This project is about so much more.  Don't forget to fine tune and practice your newly acquired managerial strategies and skills.  Enjoy the fruits of your labor at your event.  Sit back and take notice of all awareness, good people, and success that you and your team have brought together.
Lessons Learned
There were many lessons learned during this project as there is with any.  Once we finished our event and took a step back, the lessons learned seem to be very clear.  Below is a list of some of the major lessons learned throughout our group.
Hire Good People, Have Trust in Them
Be Flexible
Success Begins with Planning
Well Defined Roles and Requirements
Consult an Expert
It really shows, that if you hire good, trustworthy people, they are going to bring nothing but positives to your event.  I believe the case in point was watching the caterer, Tim Dudik, set up the food and seamlessly service close to 100 people without any problems.  Another quick and easy lesson learned is to be flexible.  Remember to get the job done at any cost and that no job is beneath or above you.  Accept and be open to people's suggestions and be open to creativity.
As the event ended for our group it was difficult for team members to think of any issues or problems that occurred.  Tom, John and I consistently had surprised looks on our faces throughout the event.  Things seemed to be going so well, that it become apparent there was not much else for us to do to help.  That I believe is a testament to the vigorous and detailed planning that was performed for the project.  With that, having well defined roles and responsibilities was crucial, which really created a well oil machine during the event.  Finally, I believe the group really underestimated one of the biggest advantages that we had, which was a practiced veteran within the improv comedy field.  Josh's expertise, background, and history provided us the blueprint to an extremely successful event.  I believe all of these lessons learned really allowed our group to create and execute a terrific event that really went without a hitch.