Our team sought to partner with Feed My  Starving Children (FMSC), an organization  that ships packets of life-saving food to  malnourished and impoverished families and  orphans all over the world. The best way for  our team to support their cause was to  provide the three things they always need:  donations, volunteers, and awareness. To  facilitate this, we partnered with Team 3  (who was also supporting FMSC) and  planned a joint fundraising, volunteering, and social awareness campaign.
We looked to deliver on all three fronts by hosting a major multi-faceted event on August 8th, which included a red carpet event with a photographer (to use for our post-event social media push), a fundraising food basket raffle, a two-hour packing event, and a fundraising dinner immediately following (with a contribution equal to 15% of the check). We also conducted an ongoing fundraising drive online with the support of FMSC during the length of the class, and supported both the fundraising and service efforts with a comprehensive social media campaign that included Facebook, Instagram, Twitter, and email/phone calls/face-to-face interactions.
About FMSC
Founded in 1987, FMSC is a national non-profit organization, based in Minnesota with three locations in the Chicago-land area. Their mission statement is to "Feed God's Starving Children Hungry in Body and Spirit." and their goal is to provide packed meals to needy children internationally. Since their founding, they have become a well-established organization. They have earned a four-star rating from Charity Navigator for the last ten years, and allocate 92% of their donations to the feeding process.
How we chose FMSC
One of our team members, Mark, works for a company that has a close partnership with FMSC. He took the lead to contact FMSC and spoke with Lisa at FMSC's development department to begin partnership efforts. We were able to utilize some of their resources to start our social media campaign and were able to utilize a FMSC website portal for collecting donations and for educating our friends and families about FMSC.
Project Objectives
Because of our partnership with Team 3, we maintained both team and combined goals. We broke out our goals as followed:
Fundraising goal: $350 per team member or $2,450; collective goal of $5,000
Volunteer goal: 7 attendees per team member (49 volunteers), collective goal of 91

Stretch goal: 10 attendees per team member (70 volunteers), collective goal of 130

Packing (base) goal: 10,584 meals packed, collective goal of 19,656 (average 216 meals per volunteer)
Kids fed for one year: 29 kids, collective goal of about 54 kids
Awareness goal: 2 communications per team member per week, or 98 communications total; collective goal of 182
Survey results: Solicit feedback from at least 25% of our event attendees to determine effectiveness of our program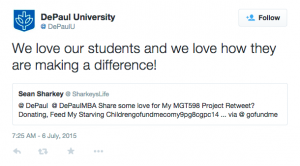 Project Analysis
Several group members were able to generate volunteer interest for a day other than August 8th. Given the numbers involved and the relative ease by which volunteerism could be accommodated, three micro-events were held on July 16th, July 27th, and July 30th. These micro-events netted 33 volunteers and 7,128 meals packed. Better still, these micro-events were used to generate further interest in the August 8th event day by serving as a concrete demonstration of the good that can be done by volunteering with FMSC.
After weeks of working tirelessly to pursue our goals, the day of the event eclipsed even our wildest expectations. In addition to the micro-events leading up to the 8th, both teams together registered 157 volunteers for the service event, or an average of 12 volunteers per person. Our team specifically registered 104 people for the event, or an average of just under 15 volunteers per person. While it was impossible for us to get an exact attendance count for our group (a family not associated with our project reserved space for twenty), we had no fewer than 144 volunteers show for the service event.
 Volunteers arriving early to the service event were  treated to our red carpet photo session (courtesy of  Team 3, and full marks for a job very well done  there). They also had an opportunity to purchase  raffle tickets for our two-chance raffle, which was an  incredibly popular draw. And, of course, each of us  had the opportunity to network and verbally speak to  what we were about to accomplish.
Two exhausting hours later, our volunteers packed an amazing 33,188 meals, which is enough to feed 90 kids for a year. We were also able to collect survey feedback from 53 people, or 37% of total attendees. Following the event, we moved over to Jimmy's Charhouse, where we expected to have about 64 guests attend. Instead of 64, we had a whopping 94 people show. The raffle was drawn following dinner, a thank-you cake was shared with the group, and Jimmy's Charhouse cut a check of $250 to FMSC.
Overall, we surpassed every project objective  we set for ourselves which was a pleasant  surprise. Our group's collaboration with Team 3  helped diversity our resources to create a better  day-of experience for all of our volunteers. We  raised $3,950 in donations and another $5,324 in volunteer time value as assessed by FMSC.
Lessons Learned
 Scope-Creep: First and foremost, our group  learned the trial and tribulations of managing  scope-creep. From the beginning we had difficulty agreeing on the scope for the project and once it was set we had difficulties staying with the set scope. Without an official project sponsor, it can be hard to work out differences in opinions within the group about the direction of the project. Opportunities presented themselves for unique fundraising events, and the group had to workout amongst ourselves what best fit into our project's scope.
Communication: Managing communication during the project amongst our 7 member group and then with the 6 additional member of Team 3 became a challenge. We used traditional methods like email, conference calls, and text messaging to communicate, but due to the volume of communications things got lost in the mix. Other teams used communication management applications that could have benefited our group. Communication amongst 13 people is never easy, but a service like Asana could have served as a hub to organized and distribute information.
Risk Management: We found that our risk register addressed risk mitigation for what to do if too few of people RSVP/attend the events, but did not well enough account for too many RSVP/attend. The number of guests who attending the fundraising dinner surprised us all and left us scrambling a bit. Thankfully our venue was very accommodating and handled the issue quickly. In retrospect, we would like to have addressed this potential risk ahead of time.
Advice
In addition to the lessons learned above we have the following advice for future project teams:
Determine what your project will consist of early and stick with it. The sooner you cement your plan, the sooner you can focus on fundraising and outreach. Uncertainty leads to limited time executing then plan.
Appoint a project manager. Previous students gave this advice to us during the first class and it was invaluable. With large teams that are spread out around the Chicago-land area and all have numerous other commitments, a strong project manager is crucial to keeping the momentum going. Mark was our project manager and he did a fantastic job of motivating and organizing the group and we do not feel as though we would have been as successful without his great leadership.
Utilized all of our friends, family, and coworkers to the best of your ability. We were continually surprised how much our networks were willing to give (both of their time and money) if you just simply ask.