As of today, October 28th, Taco Bell has launched a mobile app allowing people to order their burritos ahead after determining which location one would be ordering from.  With this new technology and the addition of thousands of new restaurants across the nation, the company has set a ten year forecast of doubling their revenue to $14 billion dollars.
This mobile app offers many new perks for both the customers and restaurants of the Taco Bell chain.  First, the mobile app offers an easier way for customers to quickly and conveniently get their food.  The accessibility this offers customers will pull people in during their on-the-go lifestyle.
The more clever way in which this app generates revenue for the company is the ability to further customize your food, in turn generating a higher check average as the add-ons will tack on extra money with every additional garnish.  The company spoke about the idea of "digital-upsell" in the Bloomberg Business Week, recognizing this trend in other fast food and delivery hubs.
Taco Bell stated that "almost 70% of their orders are some what customized regardless as many people have some kind of special request with their order.  The company has found a way to make money off of these special requests by adding additional charges to the extra toppings that would not be seen by just ordering at the store.
With every good idea, there are always some faults to be dealt with.  The promise of a walk-in and walk-out with your food will bring in customers, but could also cause customers to become angry if their food is cold or not finished yet.  The store is attempting to combat this problem by using a button that customers can press to alert the store they have arrived.  If a customer is lazy or forgets to press this button, the whole ability of ordering online may be negated and useless.
Another issue that I found to possibly arise is a great amount of people who order food and do not show up to get it.  If the store makes all of these orders and never sees the customer or gets paid for them after they have already prepared the order could result in a great loss in product.
Taco Bell is taking a huge risk with their new mobile app program.  Risks are the only way to take a step forward, and even if it doesn't go the way it was forecast to go, the potential that could have been would be worth the try.  I am very interested to see how this mobile app will go for the company and will surely try it out myself to see what I personally think about its functional accessibility.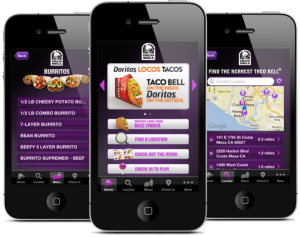 Bibliography
http://www.david-c-clark.com/62499/533147/featured/taco-bell-mobile-app
http://www.usatoday.com/story/money/business/2014/10/28/taco-bell-outback-starbucks-restaurants-fast-food-casual-dining-technologies/17842845/
http://appleinsider.com/articles/14/02/14/metawatch-adds-step-counter-for-iphone-5s-users-taco-bell-working-on-mobile-ordering-system