Executive Summary:
Our  Idea was to raise funds and make some fun out of it at the same time, as this will encourage people to donate more, therefore we choose a Padel tournament fundraiser which we named "Donation Dash Padel". As the game has been a recent trend among people and they have been enjoying this activity lately.
The Project's focus was on raising funds and getting reasonable support for Ayadi Relief a nonprofit, charity organization where our efforts were directed towards encouraging people to donate and support the cause.
We created an Instagram page for the event as an official communication tool, announce the date and timing, and register participants for the tournament. The selection of this communication method is because of the popularity of Instagram in our region many businesses are using it and it is a great way to advertise and attract people to participate in the event. https://www.instagram.com/dashpadel.bh/
The event took place on Saturday, November the 27th at Pink Padel, which is located in Riffa, Bahrain. Following are the event activities:
Ayadi Relief joined the event through their booth, where they sell products that were locally made such as games, scarfs, notebooks, and other accessories with the outcome dedicated to charity.
Guest are welcome join and see the match and enjoy free mojito provided by one of our sponsors RIVALMOJITO.
The tournament consisted of 16 players, playing on four groups of two-player teams.
At the end of the game, winners were granted prizes that included Coffee Capsule Machine, watches, and cinema tickets.
Below are images that we designed for the tournament, that shows how we divided the 16 players:
The event was successful and achieved the result we anticipated where the participants and our team had a lot of fun. Most importantly we were able to raise funds and exceeded our target of 340 BHD with a total donation of 500 BHD approximately 1,300 USD.
Overview Of Nonprofit Organization:
Ayadi Relief is an international humanitarian association that is led by a
 group of ambitious youth to serve the affected communities in the Middle East and the Horn of Africa by establishing projects aimed at rehabilitating the education and housing sector with the help of strong partnerships with organizations/entities in the targeted countries.
Ayadi focuses its work on the Middle East and the Horn of Africa, establishing educational projects in Djibouti and Somalia, housing projects in Bahrain, and Syrian refugee communities in Jordan.
Their team was wonderful and supportive, they were happy to support us even with the short notice that we highly appreciate.
Our Goals & Objectives:
Time management – keeping track and completing tasks within the due date.

Managed to stay on track with our MILESTONE SCHEDULE

 Accomplished
Staying within the budget allocated.

Budget = 100 BHD
Final Cost = 80 BHD

Underbudget
The numbers of participants.

Target 16 players
Actual 16 players

Accomplished
The amount of funds raised.

Target 340 BHD
Actual 500 BHD

Accomplished
Overall satisfaction of the Stakeholders in the event held.

Participants were happy and thanked us by posting on their social media accounts that they enjoyed the event and even asked to do more tournaments.
Team members enjoyed the event and had a lot of fun.
Ayadi Relief are satisfied and enjoyed the event.
BIBF was happy of their students and the  success of the event by posting on Instagram account.
Pink Padel are satisfied with the event they posted on their Instagram page pictures and videos tagged by participants in the event.

 Accomplished
The use of project management skills among the team.

Each team member was able to contribute their skills in to the project such as strong leadership, organization, negotiations, problem-solving, and time management.

Accomplished
Enjoying and having fun during the process and the event.

This was a joyful and fun event all members were able to enjoy their time while organizing the event

Accomplished
Lessons Learned:
The role of a project manager is important, most projects fail because project managers fail to understand the requirements of projects, and do not stick to deadlines, Project managers should fight for their projects, and engage their team members by delegating tasks and responsibilities to them with realistic deadlines, in order to achieve the ultimate outcome.
Communication is a vital key for project success, it is essential for team members to share ideas, thoughts, knowledge and information, where team members exchange clear and precise messages, and if anyone feels confused at any stage should always seek to clear the confusion by asking questions until the information is fully understood, and by engaging in effective communication the relationship between team members will be strong, it will also reduce any stress and tension between team members, which leads to project success.
Openness to change, we have changed the scope of our project and the charity to be funded at the planning stage, sometimes things don't go as planned, and it is totally ok because success requires the ability to adapt to things, team members should accept the need of change when it is necessary for project success, it is also essential for team members to be willing to support the change, have positive feelings about it, and be involved in the change process.
 Our Advice For Future Teams:
Work together, when team members are working together it is easier to generate creative ideas and share valuable information, which boosts performance and creativity.
Communicate regularly, by having scheduled meetings with written agenda of the things that will be discussed.
Check-in regularly, project managers frequent check-ins keep everyone on track, providing support and feedback.
Prioritizing can help to schedule things based on importance and complexity, in order to start and focus on things that take longer time, or complicated issues.
Emotional intelligence is a key skill to deal with different types of people, by understanding self-emotions in order to use them in a positive way and other people emotions by showing empathy and understanding their nonverbal cues that help to understand their feelings and emotions.
Photos & Video of the event: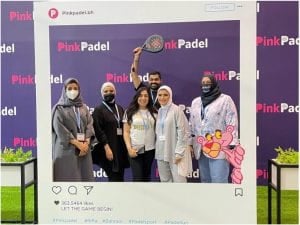 ---