The Chicken Nuggets Card Game
Product for Ayadi Relief by Team 4
Executive Summary
In only 10 days, a trendy game was designed and produced by team 4. As part of the Project Management course, the team has selected a project to produce a product for Ayadi Relief Organization as a fund-raising project. The team has managed to experience the role of project management and its tools to carry on the project and deliver an amazing product in only 10 days from the inception till the rolling of the product. The product is a family card game which its objective is to link between the heritage of GCC countries and their modern culture which has been influenced by the foreign cultures. The game takes the players into different eras by introducing the slang words and characteristics of each era. The game is named in Khaleeji dialect (slang) and inspired by its content and culture.
The number of games sold in the launching event was above the team expectation and the team was able to cover its cost and start generating profit. The income of the game will be donated 100% to the charity organization.
The project has faced challenges during the implementation, however with a great management and controls, the project was success, and achieved its goal.
At the end of the project the team has achieved all its goals, and had an amazing time and fun during the implementation of the project and the event. Only within a day the team manage to raise a total revenue of BD 1,870.393 from selling the game and donation, and after paying all the expenses it ends up with a profit of BD 893.493. The organization managed to continue selling the product and obtained additional BD 500 by the end of the course to reach a total profit of BD 1,393.493 which is equivalent to $3,691.
Stakeholders
The project will be managed and implemented by team 4, the stakeholders of the project are as followed:
−       Project Manager: Hessa Hussain from Team 4
−       Game Designer and Developer: Team 4 members
−       Procurement & Supply Coordinator:  Bassel Al Dawoud
−       Event Coordinator: Mohammed Abdeen
−       Product Quality Assurance: Hanan Bedaiwi and Fatima Haidery
−       Account & Finance Coordinator: Hanan Bedaiwi
−       Customer/Client: Ayadi Relief Organization
−       Target Users: Khaleeji Teens and Adults
−       Contributors: Volunteer designers
−       Production: Printing Press
−       Sponsor: Prof. Lori Cook, DePaul University, BIBF
Organization Overview
Ayadi Relief
Ayadi Relief is a Bahraini relief youth-led organization, passing for giving. Their aim is to provide relief to poverty stricken countries and help with their education and social needs.
Contact:
Noora Ali, Vice Chairman, Projects Director
Nisreen AlMaowdah, Board Member, Event Director
Faten Muttar, Ayadi Shop Director
Budoor Kamal, Ayadi Shop
Tel. +973 3668997
Project Idea
After our visit to Ayadi Relief event which was held on 3rd and 4th March 2017, we observed that Ayadi Relief organization has implemented a good initiative of having a sustainable income to cover their admin charges, specially that all their funds raised from their events goes 100% to charity projects unlike other organizations. However, they lack of creative and diversity products in their shop. We observed that they had only two products that were sold, and that was not enough to sustain their income. Therefore, the idea of the project is to support their initiative by creating and producing a new product to be sold in their shop. A customized board/card game was a creative suggestion to be developed for Ayadi Shop.
Measures of Success
| | |
| --- | --- |
| Measure of Success | Achievement |
| Design and develop a finished product to be sold in Ayadi Shop. | Designed a trendy card game. A creative product for Ayadi Shop. |
| The product shall be delivered to Ayadi Relief organization by 18th March 2017. | The product has been completed on 16th March 2017, and was able to be sold on the event on 18th March 2017. |
| Produce at least 60 units for the launch event. | Produced total of 300 units, which more than 100 was sold on the launch event. |
| Generate revenue of BHD 600 ($1,590) at the event. | Generated revenue of BHD 1,870 ($4,953) at the event. |
Lessons Learned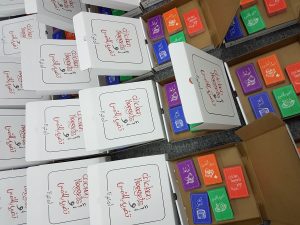 The project success was due to a coherent team. We managed to understand each other's skills, talent and passion. Understanding the project goal and scope by all team members made our results in line with the organization's vision. As a team, we exercised several methods of communication between us, face-to-face meetings every other day, daily progress report via emails and text messaging, and conference calls whenever is required.
The most important lessons learned is that you should be passionate about what you are doing, and love what you work on, enjoy every moment and have fun; this was truly what empower us to deliver.
During the project, we came across several challenges, it would have been easier if we tackle them at very early stage such as:
−       Communicate with the printing press at very early stage, upon agreement of the project idea, in order find a sponsorship or at least cover the printing cost, to avoid having limitation of the budget, which ends up with funded by the team.
−       Quality control should be carried out before at least two days prior to the event, to avoid waiting till the last minute to correct any default or defects. That would make the team feeling comfortable at the time of the event and make sure we provide a product with a quality standards.
−       The design of the product took more time than what we have forecasted, that affected the target of all other milestones. Dealing with competent designer and agree ahead time through face to face interaction would have met the schedule of the design phase.
−       Time of the event was short, we have received several feedbacks from visitors to extend to three hours instead of two, however, we couldn't change the plan as scheduled ahead and discuss that matter of the Riyadat mall.
−       Lastly, Riyadat mall was a hot spot and we managed to have quite number of visitors on the event. It would be better if we could explore more hotspots so we can select a better accessible one in order attract more visitors.
Advice for Future Teams
Based on the above lesson learned, we would suggest team having a challenging project deliverables and limited time, to keep working on the project on daily basis and stick to the timeline of each milestone to avoid any last-minute hassles. Moreover, any project with multiple and complicated stakeholders should have at least a meeting every other day to monitor the progress and check contingences.
Developing a product for charity fundraising required a solid sponsors and financers which a key element to go smoothly with project, conducting several meetings with the potentials sponsors would make the team focus more on the product quality and event arrangements more than financing and supply management since budget was so limited.
Marketing was a key element on the success of the project, we use all type of marketing starting with brochures, papers, make demos on the game and social network as much as we can to attract more visitors to the event. We have applied the idea of pre-order concept so that we take customer voice on our side as well. Marketing is one of the key success factors that helped us to achieve the KPIs of our project.
We would suggest evaluating the progress of the project results on daily basis in to measure the need of plan B and C and keep ready in case of any critical situation arises at certain time to start implantation immediately.
Be passionate for giving, love what you do, be proud, and enjoy your time.
Team Members:
Hessa Hussain
Bassel Al Dawoud
Hanan Bedaiwi
Mohammed Abdeen
Fatima Haidery
Behind the Chicken Nuggets Game – Movie:
https://drive.google.com/file/d/0B1IDg8aGExSqMVlibDhaZDZpdk0/view?usp=sharing