Team 3:
Reem Al Buflasa, Mohamed Yusuf, Mohammed Abulfateh, Narjis Al Qattan,  Walaa Bushakhar & Zainab Marzooq
Brief description of the project
The project aims to spread public awareness about Multiple sclerosis (MS) disease. MS disease affects the brain and spinal cord and it usually targets patient in the age range between 20 and 40 but there are reported cases of children with MS. Unfortunately, the cause of MS is still unknown and there is unknown cure for it. MS's most common symptoms are loss of sensitivity, muscle weakness, blurred vision, and difficulties in movement and balance.
Brief description of the charity            
The main event of the project was to invite the public to attend a session in which they can interact with MS patients and it was planned to be conducted within the National Multiple Sclerosis Awareness Week. MS patients were invited to the stage to narrate their personal stories and spread awareness about the disease, their needs, and society's responsibility toward MS patients. We organized the event and ensured participation of Bahrain MS Patients Society and they invited patients from different nationalities and backgrounds to participate as main speakers.
Our main contact was Mahmood Al-Belushi and we contacted him directly on his mobile. Below are contact details of Bahrain MS Patients Society:
Established in 2013
Currently headed by NahlaAbulfateh and Mahmood El Balushi as vice-president
Twitter: @BHMS_society
Instagram: @BMSPS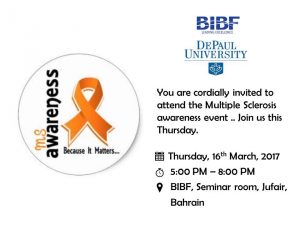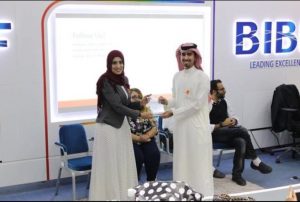 Besides the main event, other approaches were used to meet our goals and aims:
Showing a 2 minutes' video about the MS disease in Bahrain Cinema during the peak hours (weekend).
The cinema has preliminary agreed to show the video for one full day with a minimum cost.
Video Interview with a Neurologist.
Awareness Video at Bahrain City Centre's Cinema
Video Interview with a Neurologist
youtu.be
An interview with Dr. Farzana AlSayed, Clinical Neurophysiology & Movement Disorders, to discuss MS.
Factual analysis of success in terms of project objectives
Cinema Attendees
Number of viewers 1,980
Event attendees 
Target  – 50 attendees
Actual – 45 attendees
Social Media
Targeted 250 followers per channel
1,893 followers
3,679 followers
1,338 followers
Lesson learnt from managing the project
Proper Planning is essential. During idea proposal time the team may get excited and propose addition of many activities to the project to have a bigger project. Planning of the activities using the techniques learnt for project management like WBS, time management, and resources planning are critical as these techniques will make the picture clearer of how big is the project. These techniques will help the team define the scope properly of the project and prevent them from the temptation to go beyond available capacity.
Stick to the Plan. Once the plan is made the team should stick to the plan and monitor the progress always by comparing it to the plan. Time loss cannot be recovered and hence the members should always aim to complete the tasks before the planned time to accommodate any possible failure.
Effective Communication is THE KEY. It is important to have effective communication between all the team members to delegate responsibilities among the team. The project manager does play a critical role in setting the communication plan but it is the responsibility of the all the team to communicate as per the plan.
Advice for future teams doing similar projects
Effective risk management strategies allow you to identify your project's strengths, weaknesses, opportunities and threats. By planning for unexpected events, you can be ready to respond if they arise. To ensure your project's success, define how you will handle potential risks so you can identify, mitigate or avoid problems when arise.
A well thought out and detailed project plan will prove to be extremely vital, it can be used to measure and justify the level of effort required to complete the project, Typical requirements might include:
Overview information on how long tasks will take to complete, Early warning of any risks to the project, Information on workload, for planning holidays, Evidence, Historical information on how projects have progressed, and in particular, how actual and planned performance are related.
Optimum utilization of available resource and Cost.
Be sure to make realistic goals, especially with money goals and event attendance expectations.  There is nothing worse than having high expectations and not being able to deliver.  We should create realistic and attainable goals for our team and make sure the scope and deliverables of the project are well detailed and followed throughout the project.  Try to stay on course and don't get distracted or over burden our self by trying to do too much.
Don't get caught up in just trying to raise the most money possible or use the project as a competition.  This project is about so much more.
A project manager can make communications between group members more efficient and poignant.  Communication is also simplified by having a project manager assign responsibilities and check ins, reducing additional messages and calls for follow up.
Don't get caught up in just trying to raise the most money possible or use the project as a competition.  This project is about so much more.