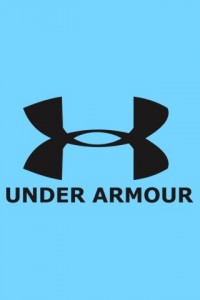 Under Armour is one of the newer brands of athletic apparel and are well known for their "moisture wicking" shirts. They are adjusting their plans and goals to increase their sales. North America has been their major contributor to their sales. Their toughest competitors are Nike and Adidas, which both generate at least 59 percent of their revenue outside of North America. Under Armour's sales outside of North America is only 6 percent, with a new strategy they will increase their sales internationally.
Under Armour has noticed the need to improve their sales outside of North America and have hired a market manager to focus on their international sales. Analysts suspect that Under Armour will introduce their new products at the 2016 summer Olympics held in Brazil to gain international awareness and support.  Their competitors have also use this strategy in the past with successful results.  The Olympics could be the perfect stage for Under Armour to introduce their products because they are different from their competitors' products. The Under Armour selection of products are known for their moisture wicking and light weightiness.
The strategic importance of location is definitely being recognized by Under Armour. If their products is on trend, the summer Olympics could have great sales. Location, cost, and innovation will be a major factor in deciding where to place their products at the Olympics. The location is great and well tested. Costs of shipping their products to Brazil will be pricy but has greater sale benefits. Innovation is something Under Armour has in abundance since they are such a young company, they have the ability to be creative.
The Under Armor President said that they have focused on their supply chain to ensure they can deliver their product more widely. They are prepared for the influx in sales internationally. This is a good sign because they are prepared to last, in the long run, and deliver their products across the world.
Expansion of the Under Armour brand will include yoga fans, women, and sports bras.  Designing new products in many different areas will be tough but if they can produce a new trendy design people will notice. Under Armour has the ability to be a major competitor in the athletic apparel industry. Right now, they are only 2.5 percent of the athletic apparel market. Success of gaining new customers at the Olympics will make Under Armour a major contender in the athletic apparel industry. With such a huge number of people taking notice of their product, their sales have the ability to by far surpass, their current number, 6 percent.
Is Under Armour spreading themselves too thin by focusing on growing too many different products? Will the Summer Olympics be a good stage for Under Armour to reintroduce themselves to the international market?
Source: http://online.wsj.com/article/SB10001424127887324866904578515513925827852.html?mod=WSJ_hp_EditorsPicks