Imagine if you were Mark Zuckerberg, the CEO of Facebook, and your product attracted 175 million people on a daily basis.  I don't know about you, but I would be thinking of other ways to capitalize on this already loyal fan base and try to introduce more products targeted toward their needs without stemming off the confines of what has made Facebook successful.  Hey, what about a cell phone?!
This idea has apparently caught AT&T's eye when they decided to allow the new Facebook Home software to be integrated in the HTC First cell phone.
Facebook Home is software for your phone that allows Facebook to essentially take over your phone.  This allows users to take advantage of their already established social base on Facebook and communicate with these friends on their cell phone "more conveniently".  It consists of features such as the cover feed that allows you to glance at your phone for photos and posts, chat heads that allows you to send and receive texts and Facebook messages in one place, allows notifications to be accented on your home screen and an app launcher.
To me, the advantages this product are allowing cell phone users to no longer have to pay a texting fee due to the chat heads feature and from a company point of view it allows Facebook to mass distribute its product without consumers having to buy a cell phone.   However, from a product design standpoint, I don't think Facebook Home targets the cell phone market very well.  It tries to reinvent the cell phone world too much by focusing the cell phone software design around people instead of apps.  As a consumer would you enjoy having your cell phone constantly flowing with your friend's pictures and status?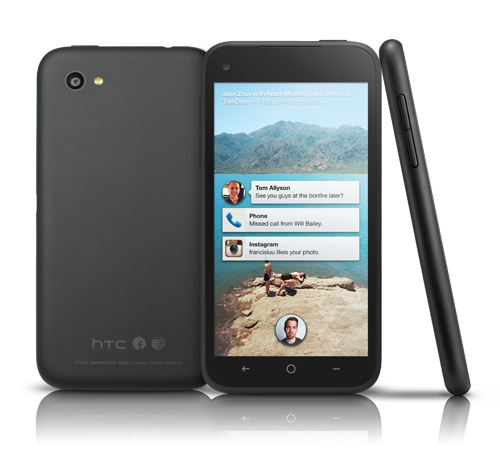 Apparently the majority of Facebook Home users did not enjoy having their phone being constantly engulfed with their friend's updates when the first month sales reports came back.  "BGR.com says that sources at AT&T indicate that fewer than 15,000 of the phones had been sold by the end of its first month.  By comparison, in the three months of the year AT&T sold 6M smart phones, of which about 1 M were android phones- an average of more than 300,000 per month. "AT&T then cut the original $100 price to $99 cents on-contract. The mistake HTC First made to integrate their product with Facebook home has seemed to have left them with an essentially useless product with a lot of inventory.  Now it is rumored that the HTC First will soon be discontinued and unsold inventory will be returned to HTC.
I would question management's decisions during the product development stages when designing the product, how they reviewed Facebook Homes design, and most importantly how they tested the market.  If these stages were done efficiently I feel that AT&T could have better understood the consumer demand for the HTC First Facebook phone and could have been more aware of this disaster before it occurred.
As a consumer would the HTC First Facebook phone satisfy you?  How do you feel management could have avoided this disaster?
http://www.foxnews.com/tech/2013/05/13/no-home-for-facebook-at-att-htc-first-to-be-discontinued/
http://www.techhive.com/article/2039633/facebook-slams-brakes-on-htc-firsts-international-plans-following-poor-home-reception.html
http://www.facebook.com/help/558055177560569
http://www.guardian.co.uk/technology/2013/may/14/facebook-home-app-htc-problems
http://news.cnet.com/8301-1035_3-57329634-94/facebook-phone-who-would-buy-this-thing/
http://www.theatlanticwire.com/technology/2013/05/htc-one-isnt-saving-htc-facebook-phone/65486/
http://news.softpedia.com/news/175-Million-People-Use-Facebook-Every-Day-133744.shtml