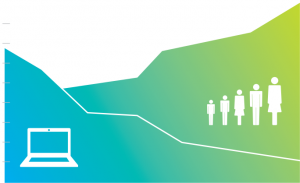 Sales may rise or fall, companies may grow or shrink, but it's the people on the inside that determine whether a company succeeds or not.  With talent acquisition being such a hard and tedious task, it is getting harder and harder to find someone with the right skills to fill that position.  This will require companies to lean towards talent management software.  A talent management system must deal with the four pillars of human resources: recruitment, performance management, learning and development, and compensation management.  For a long time companies relied on Enterprise Resource Planning (ERP) systems to handle payroll and time management.  With a talent management system, different modules can be built to serve each purpose required.  These modules help management, from bottom-level managers to high level execs understand what's working and what's not working for the company.
Additionally, talent management systems work through the cloud which will help cut out the IT department and save time on deployment.  You can literally purchase a talent management system and that same day have it up and running.  Having the system through the cloud also provides Over-the-Air (OTA) updates of the system and allows vendors to work easily together.  The up to date system prevents companies from using legacy systems for years on end.  Another advantage is that this cloud-based system works in real-time, allowing HR departments to run simulations on what-if situations and test the outcomes in real-time, this will help the HR department work hand in hand with the business to create strategy.
As I mentioned earlier about vendors being able to work easily together, more and more features are being added in real-time.  Video interviewing platforms, linking with social media, and resume management are just a few of the features integrated.  Along with these features, the layout of the system even looks like Facebook, making the system easy to use and easy to recognize for many.
With HR being one of the key factors of a successful company, talent acquisition needs to be streamlined to make workforce employment more efficient and relevant.  While  many companies have been working to change their talent management strategy, more than half have yet to even begin addressing this issue.  Companies like SAP on the other hand have realized the value of a true talent management system and have acquired companies such as SuccessFactors ($3.4 billion) and Oracle has recently acquired Taleo ($2 billion), and there are many other companies out there such as Workday.com and Salesforce.com that have their own system.
What are some other features that would be valuable?
How big of a role does talent acquisition play in a company in your opinion?
Source: "The New HR Management Model." Fortune Magazine 19 Mar. 2012: S1-S5. Print.