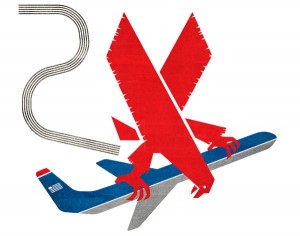 In today's travel industry, delays, overbooking  and cancellations have become common place.  Today there are many airline carriers to chose from but only very few have stood the test of time and and maintained their profitability   By Providing better service and less obstacles to swift traveling, companies like United and American Airlines have grown into brand names if you will.  However, when large carriers like American Airlines expand and grow, the quality of their service is potentially at risk.
In March of 2013, congress approved one of the largest mergers in the airline industry's history.  It agreed to the merger proposition for American Airlines to combine with U.S. airways making it the largest airline carrier in the world with over 6,700 daily flights to 336 destinations and a little over 10,000 employees.   Now the common idea with large mergers such as this, is that quality will suffer as the company become larger.  So by analyzing some potential outcomes of the current picture of American Airlines and what may happen with the pending merger, we can see where things might change.
The amount of miles earned by U.S. airways fliers will not be lost in the merger but will be transferred in a one for one type of exchange into American's AAdvantage program making it the largest airline miles club in the world with approximately 100 million members.
Another concern fliers have is the difference in in flight products offered.  For example, American Airlines offers meals to fliers on flights less than two hours long, while on U.S. airways the flight must be longer than three and a half hours long before you will receive a meal.  With the merger, American Airlines fliers are quite worried about the amenities they might lose when flying on American.
Flying could also get more expensive, with so many routes under the American flight portfolio, there is a strong possibility for a fare hike on many different routes where there is little to no competition from other airlines.  The main hope for this merger according to executives at American Airlines is to come together and offer more fliers a better experience with seamless travel to more destinations.  It seems with the intended proposed plan that American will actually improve on the delivery of a quality service to a larger group of customers.
In many instances, large mergers such as this often have negative affects on the companies involved and they often lose much of their clientele as the quality of the product or service is diminished   However, in this case it appears that the intended plan would only serve to benefit both groups and their clients, as U.S. Airways customers would see an improvement on departure and arrival times with access to more daily flights, as well as an increase in the quality of the in flight services currently offered on many American flights, and the American airlines customer would see a significant increase in the number of destinations offered along with a much more flexible array of flight times with the increased number of daily flights as well.  It would seem as though this merger would make American Airlines the most competitive and profitable airline in the industry which will be determined for certain when the merger takes place at some point in the projected 3rd quarter of 2013.
Works Cited
http://travel.nytimes.com/2013/04/14/travel/if-american-airlines-and-us-airways-merge-what-should-fliers-expect.html?pagewanted=all&_r=0
http://www.foxbusiness.com/news/2013/04/15/new-american-airline-ceo-parker-to-get-15-million-in-merger-pay/
http://www.nbcnews.com/business/court-approves-american-airlines-us-airways-merger-2B9117378
http://www.huffingtonpost.com/scott-keyes/what-the-american-airlines-merger-flyer-miles_b_2688076.html