As student debt recently surpassed the $1 trillion mark, the delinquency rate on student loans has also exceeded that of any other type of consumer loan – including credit cards and car loans. Even worse, chances are that many will default, even though there are now more options for debt relief than ever. Private loans offer choices that include forebearance, deferment, and reductions in monthly payments; federal loans offer some additional options for the employed, unemployed, students, and military. Unfortunately, for those who decide to default anyway, the consequences can be severe. The government can garnish wages, as well as Social Security disability and retirement income. The loans are unaffected by bankruptcy, and charges for collection can reach 20%. Lenders even get first dibs on any lottery winnings. And, just like any other loan, defaulting can damage credit scores, affecting the borrower's ability to get future loans.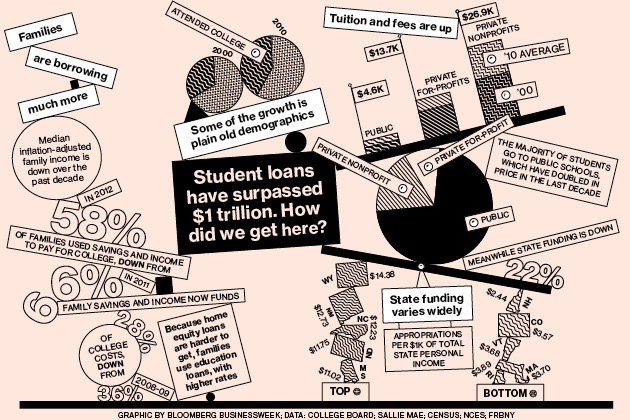 So, how did it get so bad? After all, student loans are just loans, right? Well, not really. Unlike other types of loans, there's no collateral involved (an education can't be repossessed) and loans aren't given out based on creditworthiness or ability to repay. Beyond that, tuition has skyrocketed to a level at which the higher projected earnings of having a degree are all but wiped out by the burden of the debt incurred, to the point that many debate the value of having a college degree. What money schools do have often times is not given to those who need it the most – for example, it is sometimes used to lure higher-paying students rather than low-income ones. In fact, financial aid is like a legal form of price discrimination – a method of lowering the price of admission to what someone is willing to pay, so that everyone pays different amounts for the same education.
Several ideas have been proposed to help the "industry" (which involves mainly schools and the federal government) revamp their operations. Most obvious is to bring down the cost of higher education to a reasonable level, which can be done partly by online learning and automation (eg. recorded or online lectures for intro classes). Also, make the schools somehow feel the burden of loan default, which may encourage them to offer more aid as grants rather than loans – or to come up with better ways of financing education. Disclosure might also prevent some from overleveraging their finances if, for example, they knew what the projected payback from their degree is, or if they were better informed on how much of their aid package was actually from loans. Finally, come up with better terms for the overburdened, such as income-based payments and writing off additional debt after a specific repayment period.
It seems strange to think of higher education in business terms, but ultimately most of us are in it for some form of financial gain. What are your thoughts on student loans and the high level of delinquency? Is the value of higher education (financially) worth the cost anymore? How can institutions adjust their operations to reduce the risk of default?
http://www.businessweek.com/articles/2012-11-28/the-needless-tragedy-of-student-loan-defaults