When searching for airplane tickets online, have you ever noticed the same exact flight having a different price on each travel site? Well, flight fox.com has come up with a way for travelers to get the absolute lowest airfare. Two men, Todd Sullivan and Lauren McLeod, founded this company in Mountain View, California. Todd Sullivan states that there are two types of airfare researchers, one being an "expert". Members will need to apply in order to be experts. These applicants need to only show they are capable of finding low and good fares. Another type of researchers are "flight hackers". These people "enjoy the sport of fare-hunting".
To become apart of this traveler community, Flight fox requires the flyer to enter he or she's destination and where they will be traveling from, as well as desired itinerary and preferences (connected flights, direct flight, where you would like to sit in the plane, etc.). If someone needs to travel with a pet or surfboard, there is an option for that. This results in a competition between the researchers (anyone apart of Flightfox) to find flights according to the specifications of the traveler.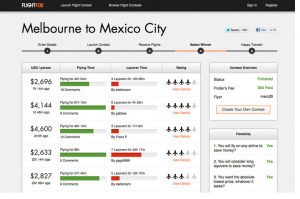 Whoever ends up finding the cheapest fare that best complies with the traveler's preferences will receive " seventy-five percent of the finder's fee that the traveler pays Flightfox when setting up the competition". This allows for members to have an incentive and further motivation to look for these flights. In addition, it's a new hobby people can start enjoying. Most people utilize a computer at least once a day, especially when there is down time. Now, you can earn a few bucks during that down time.
I believe this is a wonderful idea. There are many airplanes and websites that not everyone knows about and this site gives the opportunity to contribute such information and help others out, while at the same time having a possibility to win some money! One thing I am skeptical about is that prices of tickets can vary every day. One day, it can be the cheapest price you find and the next it can increase by sometimes a hundred dollars each way, so I wonder if the information given by the researcher is one hundred percent true or if the researcher needs to constantly update the information.
What are your opinions about this article? Would you consider using this site when it comes time to planning a trip, why or why not?
For the complete article: http://www.nytimes.com/2012/09/30/technology/flightfox-lets-the-crowd-find-the-best-airfares.html?ref=technology.