Group 7: Fatima (Project Manager), Ali, Fatheah, Fatima, Hussain, Khalid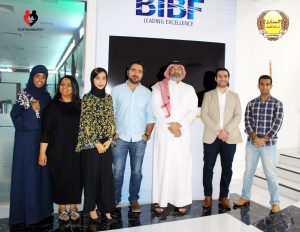 Brief description of the project
Our project is mainly about organizing a carnival showing compassion to an orphanage society as there are increasing numbers of orphans in the society. In collaboration with AlSanabel orphan care society which provides them with education, health care, and raise their standards of living.
This project has contributed to raise community awareness and raise funds for the orphans providing an enjoyable atmosphere for kids and families who participated in this event.
Brief description of the charity
AlSanabel Orphans Care Society is a charity established in the Kingdom of Bahrain on June 7, 1999, and its objectives are:
To care for orphans in need and follow them up and raise them up properly,
Provide educational, health and social care for orphans,
To strengthen the relationship and cooperation with public and private institutions working in the field of orphan service. The charity is entitled of helping and providing all the assistance needed to more than 450 orphans throughout a group of activities, including social, educational and health projects in the country.  
Factual analysis of success in terms of project objectives
Referring to the proposal itself, we have started off planning for our assignment in a specific location, the processes seemed to go in the correct direction, however after obtaining the verbal approval and planning on a larger scale, we asked the location owner to provide us with a formal letter approving the event. Since we did not receive the approval letter, we had to use our contingency plan and look for a different location. After spending some time looking for a decent place and trying to comply with the laws, we successfully managed to collaborate with group 5 and used the location for both us. As a result, we both had our events on the same in the Kick off Academy, and we are pleased to sincerely announce that we both benefited from each other.
Another matter to be mentioned, is the financials and the revenue since our main target was to collect an amount of BHD 1,500 at a head count of 100 attendees, although the actual amount is BHD 1,604 exceeding our expectations by BHD 104, over 90 attendees. This has led to our satisfaction since the hard work on planning and scheduling for the event has been paid off as the collected amount for the beloved orphans has exceeded the expected levels.
Two or three lessons learned about managing projects
One of the main aspects is to have proper planning since planning is considered to be the backbone of every project and can save time and efforts along with money to fund projects. Another aspect is communication, this has to take place during the whole stages of the project since it is essential to communicate not only through emails and whatsapp however through face to face interaction and through phone calls. Communication must be done through the process to avoid any misunderstandings and tackle all problems concerned with the project itself.
Advice for future teams doing similar projects
Our advice to future teams doing similar projects is to keep it as simple as they can. Brainstorming the whole team's ideas and planning their project might take the biggest time portion. Managing time is important due to its narrowness and choosing the right team members who are willing to cooperate and collaborate within the same team. Therefore we have developed a new term called KYTM or know your team member.